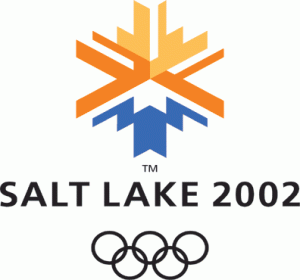 2002  Salt Lake City, USA
Despite fears of further violence in the wake of the terrorist attacks on the United States on September 11, 2001, the Games went very smoothly both in terms of security and organization.  Seventy-seven nations participated, represented by 1,513 male and 886 female athletes.  Events numbered 78, including the debut of women's bobsleigh and the return of skeleton, which had first appeared in the 1928 Games.  Luge competitor Georg Hackl medaled for the fifth time in a row.  Vonetta Flowers was the first athlete of African descent to win a gold medal in the Winter Games, unexpectly doing so, along with her partner, in women's bobsleigh, where the favorites to win were two German teams. Canada won in both men's and women's ice hockey, and player Jarome Iginla became the first male black winner of winter gold.  In a decision of fairness, two gold medals and no silver were awarded in pairs figure skating after a judge was suspended for misconduct.
2006 Torino, Italy
The 2006 Winter Olympics, officially known as the XX Olympic Winter Games, were celebrated in Turin, Italy from February 10, 2006, through February 26, 2006. This marked the second time Italy hosted the Olympic Winter Games, the first being the VII Olympic Winter Games in Cortina d'Ampezzo in 1956. Italy also hosted the Games of the XVII Olympiad in Rome in 1960.
In the 2006 Olympics, Austrians dominated Alpine skiing, gaining 14 of the 30 medals awarded. South Korea also was succesfull and gained 10 medals in short-track speed skating. Among women, Sun-Yu Jin earned three gold medals, and among the men Hyun-Soo Ahn won three golds and one bronze. The other triple-gold winner was Michael Greis in biathlon. Cindy Klassen earned medals in five of the six women's speed skating events. Another speed skater, Claudia Peschstein, won a gold and a silver to become the first athlete in her sport to earn nine career medals. With his victory in the Super G, Kjetil Andre Aamodt became the first Alpine skier to earn four medals in the same event and the first to win four gold medals in total. At the age of 39, skeleton specialist Duff Gibson became the oldest athlete in the history of the Olympic Winter Games to win a gold medal in an individual event. Andre Lange drove to victory in the two-man bobsleigh and then defended his Olympic championship in the four-man event. In this Winter Olympics, 2,508 athletes from 80 National Olympic Committees competed.