1896  Athens, Greece
Fourteen different countries, including France, Germany, Great Britain, and Greece, were represented in the first Games of the Modern era.  United States athlete James Connolly was honored as the first victor when he won the triple jump.  Carl Schumann of Germany performed remarkably well in three distinct sports.  The marathon was won by a Greek shepherd named Spyridon Louis.  Athletes numbered 241, all male.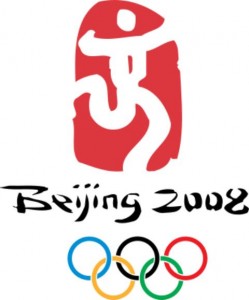 1900  Paris, France
Sponsored in conjunction with the Paris World's Fair and spread over a period of five months, the second modern Games were downplayed so much that many participants did not even realize they had been in the Olympics.  Female athletes debuted this year, the first of whom competed in croquet, while the first female victory went to British tennis player Charlotte Cooper.  Teams who played tennis and also football, polo, rowing, and tug of war, were composed of athletes of various nationalities.  In total, 24 nations participated in the Games, represented by 975 men and 22 women.
1904  St. Louis, USA
The event was again overshadowed by a World's Fair and diluted over a course of more than four months.  This is manifest in the fact that less than half of the 90+ events held had any non-US competitors.  However, one highlight from these, the third Games, was that gold, silver, and bronze medals were awarded for the first time—the previous events had seen only a silver medal awarded to one single winner of each event.  Also introduced in 1904 were boxing and freestyle wrestling.  Tswana tribesmen were the first Africans to ever participate in the Games, and George Eyser won six medals in gymnastics despite his wooden leg.  Only 12 nations attended, consisting of 645 male athletes and  6 females.
1908  London, Great Britain
Twenty-two nations were represented, most being identified by officially selected teams.  Winner of the running deer shooting, single shot, was 60-year-old Oscar Swahn.  Winner of the most individual events ever, eight total, was Ray Ewry, who took home two gold medals this year for his performance in the standing long jump and standing high jump.  Diving and field hockey debuted.  In the marathon, Italian runner Dorando Pietri entered the arena first but collapsed several times during the race and was in the end disqualified because officials carried him over the final short distance.  Male participation more than doubled from 1904 to total 1,971; females numbered 37.
1912  Stockholm, Sweden
New to the Games this year were unofficial electronic timing devices for the track events, a public address system, and events including the modern pentathlon and women's swimming and diving.  The Swedes would not permit boxing, so for future Games the International Olympic Committee developed policies that limited any host country's power to make similar rulings.  Martin Klein of Russia, and Alfred Asikainen of Finland, competed for eleven hours in their semifinal Greco-Roman wrestling match.  Jim Thorpe of the United States won both the pentathlon and decathlon, completely surpassing the world record in the latter.  Nations present totaled 28, including 2,359 men and 48 women.
1916
Planned to be hosted by Berlin, Germany, this year's Games were cancelled because of World War I.
1920  Antwerp, Belgium
Introduced this year were the Olympic flag and the Athletes' Oath.  Italian Nedo Nadi won five of the six fencing competitions, and U.S. Ethelda Bleibtrey won all three of the women's swimming events.  Twenty-nine nations (2,561 men and 65 women) participated.
1924  Paris, France
Participation in the Games increased to 44 nations.  The Olympic motto, "Citius, Altius, Fortius," (Swifter, Higher, Stronger) was introduced along with the tradition during the Closing Ceremony of hoisting the flags of the IOC, the current hosting country, and the following host.  Johnny Weissmuller earned two gold medals in swimming and a bronze in water polo, later going on to play the role of Tarzan in 12 Hollywood movies.  Gertrude Ederle won a bronze in swimming and also went on to further fame when, two years later, she became the first woman to swim across the English Channel, even breaking the men's record by nearly two hours.  Olympic competitors in 1924 included 2,954 men and 135 women.
1928  Amsterdam, Netherlands
Begun this year were: the Opening Ceremony tradition of having the Greek team enter the stadium first and the host team last; female participation in gymnastics and athletics (track and field);  Asian winnings of gold medals; a long-standing record of 28 different countries' earning gold in one Olympics; and the long-term winning streaks of India in field hockey and Hungary in team sabre fencing.  Australia's Henry Pearce won the gold medal in rowing despite his stopping to let a family of ducks go past.  In total, 46 countries sent athletes to Amsterdam: 2,606 men and 277 women.
1932  Los Angeles, USA
All the Games previous to 1932 were each held over a period of at least 79 days.  In Los Angeles, a new and still current standard of Olympic planning was set: Games last between 15 and 18 days.  A record 100,000 spectators attended the Opening Ceremony.  An innovation was the housing of male athletes in an Olympic Village—the women, on the other hand, were treated to a luxury hotel.  The victory stand and hoisting of the winner's native flag, also official automatic timing and a photo-finish camera, were introduced.  The 1,500m freestyle was won by Kusuo Kitamura, age 14.  Austrian Ellen Preis won a gold medal in fencing only after her British opponent Judy Guinness, in an act of good sportsmanship, pointed out to judges that they had not noticed two touches that Preis had scored against her.  Because of the Great Depression and the remoteness of Los Angeles, only 1,206 males and 126 females came to represent a total 37 nations.
1936  Berlin, Germany
Despite Adolf Hitler's racist antics during the Games, the African-American track and field champion Jesse Owens earned four gold medals as well as the friendship of his German opponent, Luz Long.  The inspirational torch relay was introduced with a flame being carried from Olympia to Berlin.  A kind of television broadcasting of the Games was initiated in 1936, with 25 large screens placed throughout Berlin for the benefit of the local people.  Debuting this year were basketball, canoeing, and team handball.  In springboard diving, thirteen-year-old Marjorie Gestring won a gold medal, and in the 200m breaststroke, twelve-year-old Inge Sorensen earned a bronze.  Forty-nine nations attended, bringing 3,632 men and 331 women.
1940 and 1944
No Games were held because of World War II.
1948  London, England
Although few British had TV sets, these Games were the first to be broadcast over home television.  Women's canoeing was introduced.  The winner of the decathlon was U.S. Bob Mathias, age 17, who had entered the sport a mere four months prior.  A French concert pianist placed first in the discus throw and the shot put.  Karoly Takacs of Hungary won the rapid-fire pistol competition left-handed—ten years after having lost the use of his right hand to a grenade blast.  Fifty-nine countries participated through 3,714 male athletes and 390 females.
1952  Helsinki, Finland
Another ten nations turned out, including the Soviet Union, for a total of 69.  The Soviet women gymnasts immediately settled into their dominant position, maintaining it until the Union's demise in 1991.  Czechoslovakian Emil Zatopek took the gold medals in the 5,000, 10,000, and marathon.  A Swedish woodworker, Lars Hall, was the first civilian to ever win the pentathlon.  Participants included 4,436 men and 519 women.
1956  Melbourne, Australia
All of the events were held in the Southern Hemisphere for the first time, with one exception: the equestrian competitions were held in Stockholm rather than Melbourne because of very strict quarantine laws which would not permit the import of outside horses to Australia.  The U.S. basketball team dominated their event.  Weightlifters Paul Anderson and Humberto Selvetti tied for first, but since Anderson's own body weight was less than Selvetti's, he was awarded the gold according to established rules.  Unlike all previous Games, athletes were not divided into their national teams (now numbering 72) as they marched to the Closing Ceremony; rather, they came in together—2,938 men and 376 women—representing worldwide unity.
1960  Rome, Italy
Wrestling events were held in the Basilica of Maxentius, gymnastics in the Caracalla Baths, and the finish of the marathon at the Arch of Constantine.  Rower Paul Elvstrom won his fourth gold, and fencer Aladar Gerevich and rower Gert Fredriksson each won their sixth.  Yugoslavia lost three matches in the final of the football tournament, but ended up victorious after earning the opportunity through a coin toss to compete in the last game.  The first black Africans to earn Olympic medals were Clement Quartey in boxing and Abebe Bikila in the marathon.  Australian horseman Bill Roycroft received a concussion and a broken collarbone when he fell in his endurance test, but he still participated in the jumping test and won the gold medal.  Eighty-three teams were represented by 4,727 men and 611 women.
1964  Tokyo, Japan
Yet ten more nations, 93 total, entered these, the first Games held in Asia.  The Olympic Flame was lit by Yoshinori Sakai, a student who had been born in Hiroshima on the very day the atomic bomb struck.  Judo and volleyball were added to the Games.  Ethiopian runner Abebe Bikila repeated his marathon victory despite a recent appendectomy.  Ukrainian Imre Polyak added six medals to her belt to total 18.  4,473 men and 678 women competed in Tokyo.
1968  Mexico City, Mexico
This location's high altitude caused many competitors to suffer in endurance events.  Short races, hurdles, and jumping, however, all saw a lot of new world records thanks to the thinner air.  Women gained greater admiration as Enriqueta Basilio became the first female Flame lighter, female athletes participated in shooting events, and Czech gymnast Vera Caslavska won six medals two months after her home country was invaded by the Soviet Union.  The first ever disqualification for drugs came about when a Swedish pentathlon entrant lost his chance to compete because of excessive alcohol.  International participation entered the triple digits in Mexico: 112 teams, composed of 4,735 men and 781 women.
1972  Munich, Germany
These Games reached new limits with 195 events and 121 participating nations.  In the midst of this great attendance, a tragedy occurred when Palestinian terrorists infiltrated the Olympic Village with Israeli athletes as their target.  Before they were stopped they killed two and took nine more hostage, eventually killing them and a policeman as well.  Once the incident ended, the Games were suspended for 34 hours and a memorial service was held.  Then, in a defiant gesture to the terrorism, the Games resumed.  Archery and handball were held again for the first time in 52 and 36 years, respectively.  The first appearance of a named mascot came in the form of a very colorful Waldi the Dachshund.  Fame found Olga Korbut, a very small-built Soviet gymnast who experienced great success, then failure, and finally renewed success in the course of her competition in Munich.  Male athletes numbered 6,075, and women broke a thousand, reaching 1,059.
1976  Montreal, Canada
Attending countries were decreased to 92.  Twenty-two African nations boycotted the Games because the New Zealand rugby team had toured South Africa during what was a time of great political and racial turmoil.  Women got their chance to compete in basketball, rowing, and team handball.  Romanian gymnast Nadia Comaneci, performing on the uneven bars, became the first to earn a perfect score of 10.  Japanese gymnast Shun Fujimoto broke his leg during his floor exercise but tried to conceal the fact because of tight competition between his team and the Soviets; his secret lasted until he dismounted from the rings and dislocated his knee.  The gap between men and women continued to shrink: 4,824 to 1,260.
1980  Moscow, Russia
Only 80 nations competed in Moscow.  The United States spearheaded a 65-nation boycott of the Games in protest of the 1979 Soviet invasion of Afghanistan.  Gymnast Aleksandr Dityatin won all of his events, collecting eight medals.  Swimmer Vladimir Salnikov was the first to complete the 1,500m race in under 15 minutes.  Gerd Wessig broke the high jump world record.  In attendance were 4,064 men and 1,115 women.
1984  Los Angeles, USA
In retaliation for 1980, the Soviet Union led a 14-nation boycott of the Los Angeles Games.  Nonetheless, a record 140 nations participated, with 5,263 men and 1,566 women.  Strong enthusiasm surrounded the Games, exemplified by athletes at the Opening Ceremony leaving their team groups to engage in spontaneous dancing.  A women's marathon and a women's cycling road race were held for the first time.  Carl Lewis was awarded four gold medals in athletics.  Neroli Fairhall, a paraplegic archer, participated in a wheelchair.
1988  Seoul, Korea
South Korea actually changed to a democratic society in order to host the Olympic Games, precipitating a boycott by North Korea and also Cuba, Ethiopia, and Nicaragua.  The torch was carried into the Opening Ceremony by Korean runner Sohn Kee-chung, age 76, who in 1936 had won the marathon under a Japanese name because of Japanese occupation of his country at that time.  Tennis returned after 64 years, and table tennis debuted.  Ben Johnson of Canada became the first famous athlete to be disqualified for steroid use.  In equestrian dressage, women took all the medals.  Representing 159 nations, male athletes totaled 6,197 and females, 2,194.
1992  Barcelona, Spain
No boycotts were called this year, and the IOC launched an appeal for the observance of the Olympic Truce for the first time.  Apartheid ended in South Africa, granting that country access to Olympic participation for the first time in 32 years.  Ethiopian runner Derartu Tulu finished first in her 10,000m race and shared the victory lap with the second-place runner, white South African Elana Meyer.  The breakup of the Soviet Union meant that the now independent republics received distinct Olympic honors with their own flags being raised.  Yugoslav teams were barred from the Games for military aggression against Croatia and Bosnia-Herzegovina; however, individual athletes gained entry as "independent Olympic participants."  With the opening of men's basketball to all players, U.S. professionals Magic Johnson, Michael Jordan, Larry Bird, and others formed a "Dream Team."  Baseball, badminton, and women's judo were added.  A total of 169 nations were represented by 6,652 men and 2,704 women.
1996  Atlanta, USA
The Centenary Games saw 197 nations in attendance, bringing together 6,806 male and 3,512 female athletes.  Seventy-nine different nations won medals.  Appearing for the first time were events in beach volleyball, mountain biking, lightweight rowing, women's football, and softball (for women only).  Cycling was opened to professionals, as was football, with some restrictions.  A tragic act of terrorism occurred when a bomb exploded in the Centennial Olympic Park, an open area that was not officially part of the Games and therefore not under the scrutiny of the Olympic security system; one person was killed and 110 were injured.
2000  Sydney, Australia
At the turn of the millennium, 6,582 men and 4,069 women competed, and a total of 199 nations were represented.  In the Opening Ceremony, North and South Korea appeared under one banner.  Taekwondo was introduced, giving Vietnam the chance to finally win its first medal after nearly fifty years of participation in the Games: Hieu Ngan Tran earned a silver.  Also new to the Games were the triathlon and women's pentathlon and weightlifting.
2004  Athens, Greece
The birthplace of Olympics both ancient and modern once again hosted the Games, this time participated in by 201 nations.  For the Parade of Nations, a Greek weightlifter led the procession in the traditional position of Greece; his teammates all came in at the end, the place reserved for the host nation.  In the men's marathon, held along the same path between Marathon and Athens as the 1896 event, Brazilian runner Vanderlei de Lima was leading in the last five miles when a mentally ill person abruptly shoved him from the course; de Lima continued on, winning the bronze medal and also the Pierre de Coubertin Medal for his good sportsmanship and determination.  In the 3,000m steeplechase, runners from Kenya took first, second, and third place.  Women's wrestling debuted.  Shot put competitions took place at the site of the ancient Games, Olympia.
2008 Beijing, China
All countries that host Olympic Games go into a building frenzy in preparation.  The Chinese not only constructed architectural wonders for the games, they cleaned up and renovated areas of the city, changed the offerings of street food to cater to queazy foreigners, and tried to train the populace not to spit on the street.  The opening ceremony staged by the Chinese, using many forms of media simultaneously, and seemingly defying gravity and the laws of physics, dazzled viewers worldwide.  American Michael Phelps was the champion of the games, winning 8 gold medals in various swimming events.  He holds the most career gold medals for an Olympian, and he equaled the record for most individual golds at a single Games. In the end, the Americans took home the most medals, with 110; the Chinese were second, with 100; the Russians were third with 72; and the British were fourth with 47, Australia following close behind with 46.  205 countries participated at Beijing, with over 11,000 athletes. The Games saw 43 new world records and 132 new Olympic records set.