By Rebecca
Members of the Church of Jesus Christ of Latter-day Saints (commonly referred to as Mormons) are well known for their outstanding achievements in many facets of life to include business, education, politics, and sports. In the sports arena, there have been several Mormon athletes who have earned their spot on Olympic sports teams, and have each experienced the thrill and excitement that comes from being on "center stage" as it were, if only for a brief moment in time, to demonstarte their abilities to a worldwide audience. For those honored to represent their country in the 2012 London Olympics and Paralympics, that same adrenaline rush exists. However, there does remain one major difference between these Olympians and their fellow teammates. Not only do these Mormon Olympians represent the United States, New Zealand, Bolivia, Venezuela, Batavia, South Africa, El Salvador and the Cook Islands but, as members of The Church of Jesus Christ, they are also ambassadors of the Lord Jesus Christ. Although they may each have a goal of bringing home a medal, especially the gold, they know that it is the blessings of the Lord Jesus Christ that has brought them to the games, and no matter what the outcome, they will give him the glory.
Sucessfully qualifying to participate in the 2012 London Olympic Games are over a dozen Mormon athletes, each of whom are stellar athletes in their perspective sporting event. These athletes include the following: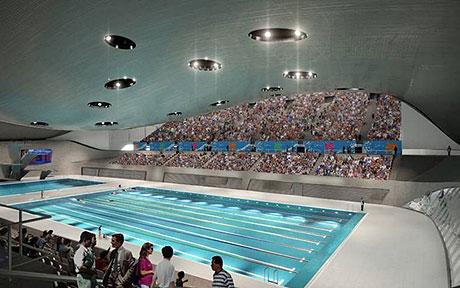 Representing Team U.S.A.: Breeja Larson, swimming; Jake Gibb, beach volleyball; Ryan Millar, Rich Lambourne and Russell Holmes, volleyball; Arielle Martin, women's BMX; Jillian Camarena-Williams, shot put; John Nunn, racewalker; Tumua Anae, water polo; and Sarah Robles, weight lifting.
For the New Zealand team: Valerie Adams, shot put; and Hayley Palmer, swimmer. Representing Venezuela: Maria Gabriela Martinez Gascon and Johanna Fuenmayor, fencers. For the Bolivian team: Andrew Rutherford, swimming; and for Cook Islands: Celeste Brown, swimming.
The list above doesn't include several other Mormon athletes, such as Amy Chapman for Batavia (swimmer) who is trying out for the London Paralympic Games, Rafael Alfaro for El Salvador (swimmer), and Brandon Watson (diving) who made 10th place in qualifying finals, almost placing a spot among the top three finalists joining the Olympic team (personal communication, Jeff Kimball, July 6, 2012).
Each of these Mormon athletes follows the modern prophet's teachings to have happier and healthier lives.
Our bodies are a precious gift from God. To help keep our bodies and our minds healthy and strong, God gave a law of health to Joseph Smith in 1833. This law is known as the Word of Wisdom (see Doctrine and Covenants 89:1-21)… God promises great physical and spiritual blessings to those who follow the Word of Wisdom. Today, the scientific community promotes some of the same principles that a loving God gave to Joseph Smith nearly two centuries ago. [1]
Mormon Olympians believe that prayer is a personal matter between God and His children. "Prayer is the best way of communicating with and gaining wisdom and strength from God." One of the Mormon athletes prayed to ask God for help during the qualifying finals for the U.S. Olympic women's weightlifting team—
"Heavenly Father, I really need this lift to be on the Olympic team. Please give me the courage and strength I need to lift it," the 23-year-old [Sarah Robles] petitioned in her heart.

The total weight on the bar measured 144 kilograms (316 pounds), and as Robles heaved upward, she immediately thought, "There is no way." Across the room, her coach and friend feared Robles would lose the bar.

…"Nobody thought I would make it," she said. "I don't know how it happened. It was like there were angels on the platform. The Lord answered my prayer in a way I probably didn't deserve. I don't think I will ever forget that prayer in my life." [2]
Anyone can talk with God and ask for His help in every aspect of life. God can help not only in athletic competitions but also with our employment, finances, relationships, and families. He is involved in our lives because He loves us.
Watch a video of the Mormon Olympian Sarah Robles:
2012 London Olympics Updates
There are four more athletes to add to the list of members of The Church of Jesus Christ of Latter-day Saints competing in 2012 London Olympics, bringing the total to 21, and one more Paralympian, bring the total to five more Mormon athletes participating in the Olympic Games.
UNITED STATES
Synchronized swimming: Oklahoma native Mary Killman is part of a duet with Mariya Koroleva. Killman was a member of the U.S. team that won the bronze medal at the 2012 Spanish Winter open. She was also named Synchro Athlete of the Year for the 2010 and 2011 seasons. She also has the honors of being the youngest member of the 2012 U.S. Olympic Selection Team.
ARGENTINA
Rowing: Lucia Fernanda Palerma, a member of the Pacheco Ward, Buenos Aires Argentina, Litoral Stake, comes from a family of rowers. She was called to serve as a Counselor in the Primary Presidency while in her teens. As an athlete on the Argentine rowing team, she was frequently asked questions about The Church of Jesus Christ by teammates.
"So that she could do her homework, attend seminary daily and fulfill her callings, she made an agreement with her coach to practice daily during times that would not interfere with these obligations, which for her are priorities," said Litoral Argentina Stake President Andres Walker. [1]

Her bishop, Miguel Angel Vasta, said, "I have visited Lucia several times in her training, and I have seen the respect she has earned among her rowing team. All know her standards and beliefs, and for these, they respect her." [1]
In 2004, at the age of 18, she competed in the Olympic Games in Athens, Greece as a rower in lightweight doubles, representing Argentina. She has raced twice on the Eton Dorney in the 2012 London Olympic Games.
As she was preparing for the Olympic Games in Athens, Greece in 2004, she stated: [1]
"In these final days, my testimony of Jesus Christ is strong. I always had a testimony but now it is stronger. In my recent trip to the pre-Olympic competitions, I knew that it would be challenging. I knew that there would be no one from the Church to support me, and that the people around me would be very different. But at all times, I felt the guidance of the Lord and I felt Heavenly Father's love. I took my copy of the Book of Mormon. I read every day, said my prayers and I always felt His protection."

"Primary was a great help to me in my life," said Lucia. "I enjoyed it greatly as I took part in each event. I remember clearly the leaders and teachers, the preparation for the Primary sacrament meeting presentation. All this helped me greatly. I learned to speak of my feelings and share them. The Young Women program was also a great help. I discovered talents and abilities that I didn't know I had. I learned to develop myself better, to communicate with my friends and companions in the Church. This has been a strength in challenging moments of competition, and when I had to travel."
BRAZIL
Women's soccer: Bruna Beatriz Benites Soares (Benites Bruna) was born 16 October 1985. She is a member of the Amambaí Ward, Campo Grande Brazil Stake. She was baptized in 2000. Besides playing the position of defender for the Brazilian women's soccer team, she is also a physiotherapist having studied physiotherapy at Universidade Catolica Dom Bosco, Campo Grande, Brazil. The 2012 London Olympics is the first Olympics that she has participated in. The Brazilian women's soccer team, including Mormon midfielder Bruna Beatriz Benites Soares, has advanced to the elimination brackets and a shot at a medal.
MONGOLIA
Swimming: Oyungerel Gantumur, 20, of the Erdenet 2nd Branch, Darkhan Mongolia District, was born on 19 May 1992 in Orkhon Province (Mongolia). The 5'5″, 119 pound, athlete has competed in the women's 100-meter breaststroke. She was 45th of 46 swimmers after the qualifying heats. This is her first Olympics.
Paralympians:
UNITED STATES
Archery: High school physics teacher and boys head tennis coach at at Mountain Ridge High School in Glendale, Arizona, Eric Bennett, of Surprise, Ariz., is in the Cactus Lane Ward, Surprise Arizona Stake. Eric made his Paralympic Games debut in Beijing and has been a mainstay on the U.S. national team since 2007. He shot in the 2008 Games in Beijing in the compound bow division and finished ninth. Already involved in archery at a young age, Eric lost his right arm above the elbow in a rollover car accident when he was 15. At the urging of his father, he soon got back into the sport and has been aiming for gold ever since. He is competing in the standard recurve bow division in London. Eric received his bachelor's degree in physical science from Northern Arizona University and completed his master's degree in educational supervision at Arizona State University. He is married to his wife, Rachel, for four years and they have a son, Logan.
Read another article about the Mormon Athlete Amy Chapman