By Rebecca
A young Mormon Olympian girl is trying out for the London Paralympic Games. [1] Amy Chapman is a member of The Church of Jesus Christ of Latter-day Saints (commonly called the Mormon Church by some). "Amy was born with fibular hemimelia, which means her legs had no fibula bones and were basically useless below the knee. When she was about a year old, doctors performed a partial amputation so she could fit into prosthetics." [2] Despite her disability, she is determined to compete among her peers.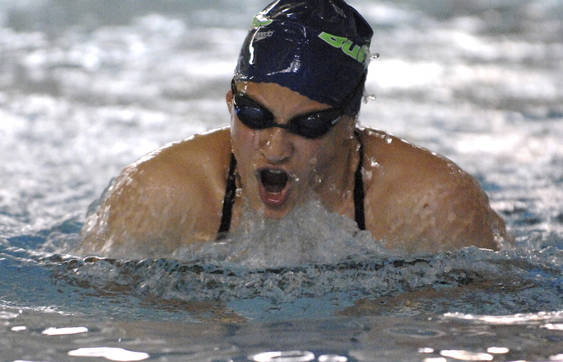 Amy has participated in several state swim competitions and is currently trying out for the U.S. team for the Paralympic Games, as a 16 year old Mormon Olympian candidate. She participated in swim meets throughout Illinois and plans on joining a high school swim team in Utah. In front of a thousand people, she positioned herself onto the starting block to compete.
[She] competed with Team USA at the Parapan American Games last November in Mexico, where she set an event record in the 100-meter breast stroke in her disability classification. Altogether, she competed in seven events, including the 50-, 100- and 400-meter freestyle, the 100-meter backstroke, 100-meter fly and the 200-meter individual medley. [2]
Amy's family and faith have encouraged her to persevere despite many challenges.
Amy's siblings — twin brother Trevor, 17; Derek, 19; and Allyson, 22 — are all very athletic. Mom Leslie was a swimmer in college, while dad Keith played Division I basketball. The family bikes and water skis in summer and snow skis in winter, and Amy's always been right there with them, just one of the bunch.

The only allowance the Chapmans have made for her disability was to outfit a Toyota Matrix with hand controls so Amy can drive it, too.

"I'm so used to being able to do everything. If something doesn't work for me, I'll accomplish it anyway," Amy said. [2]
The Mormon athlete started playing gymnastics and soccer before swimming, even though it was difficult to balance and compete with her prosthetic legs. Amy tried out for the Academy Bullets swim team when she was ten years old and has become an excellent swimmer despite the odds against her.
"It took a while to get into it competitively and really learn all the strokes, but it was something I could really work toward and put all of my energy into," she said.

…Amy made the team and hasn't looked back since. The turning point, she said, was mastering the ability not only to prevent her legs from being a hindrance and just dragging underwater but to use them for added power, too. [2]
Amy is not only a Mormon Olympian candidate but she lives her Christian Mormon faith, and serves others around her.
She's very involved with her church, The Church of Jesus Christ of Latter-day Saints in Geneva; she gets up at 5:15 a.m. to go to seminary every morning before school and has held leadership roles for church-related youth activities.

She also plays wheelchair basketball with the Windy City Warriors, sings for the school choir and teaches swimming to kids Saturdays. Oh, and she manages to keep a solid 3.5 GPA at Batavia High School. [2]
Amy knows that "true happiness comes from following Christ's example… from serving others and helping them to follow the example and teachings of Jesus Christ. It comes from working hard and having a healthy lifestyle, friends, family, and personal achievements. Regardless of what you do or don't have in this life, your deepest, most lasting happiness will come from knowing God's plan and following it." [4]
Watch a video of another Mormon Olympian:
Additional Resources:
Mormon Beliefs: Plan of Happiness
Read the article: "Mormon Olympian Honored for Having Moral Rectitude"
Visit your local Mormon church