Celeste Brown, one of a dozen Mormon athletes, will compete in the 2012 Olympics, in London. [1] Each Mormon Olympian not only represents his or her country but also represents Christ as a member of The Church of Jesus Christ of Latter-day Saints (commonly referred to as the Mormon Church by some). These athletes include—
Breeja Larson, swimming; Jake Gibb, beach volleyball; Ryan Millar, Rich Lambourne and Russell Holmes, volleyball; Arielle Martin, women's BMX; and Jillian Camarena-Williams, shot put; racewalker John Nunn, water polo player Tumua Anae and weightlifter Sarah Robles for the United States; shot putter Valerie Adams and swimmer Hayley Palmer for New Zealand; Venezuelan fencers Maria Gabriela Martinez Gascon and Johanna Fuenmayor; …Swimmer Andrew Rutherfurd for Bolivia ("Mormon Athletes in the London Olympics, 2012").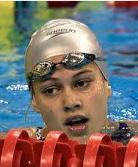 Celeste is one of 8 athletes representing the Cook Islands at the London Olympics. "The Islands first competed in the Olympics in 1988, and this is the largest team the country has sent to date, albeit still one of the smallest in world." People worldwide will watch her competing from July 26 to August 12 [2] in the women's 50 meter, and 100 meter Freestyle swimming events. [3]
This Mormon athlete will be accompanied by her team manager Romani Katoa, the team coach Hugh Dokter, [4] and her cousin Ella Nicholas. For over three years, Celeste Brown has represented the Islands previously in international competitions. Celeste has managed juggling "a punishing training schedule," studying for college, and teaching others how to swim. [2]
A good education and the ability to read help us gain knowledge and wisdom, which enable us to discern truth from error and make good choices. Education and literacy are also keys to personal growth, preparation for employment, building strong families, service in the Church, and making a meaningful contribution to the society in which we live. [5]
The 17 year old girl is not only a Mormon athlete but also participates in the LDS Young Women's organization (a divine organization led by a prophet of God who leads female youth worldwide). Mormon youth attending the Young Women's program develop strong testimonies of the Lord Jesus Christ. Youth can participate in weekly activities, community service projects, annual girl's camps, and worship services on Sundays. Leaders have taught Celeste to "work diligently and make sacrifices if necessary. Share… goals with your family, friends, and leaders so they can support and encourage you." [6] The support of church leaders, her family, friends, and community can help Celeste reach her goals even when she is tired or discouraged.
God has always called prophets to guide His children. Fortunately, the gospel of Jesus Christ has been restored and modern prophets and apostles still lead people worldwide. Watch a short clip about the 2012 Youth theme "Arise and Shine Forth":
Article by Rebecca
Read another article about the Mormon Athlete Tumua Anae (Olympic Swimmer)