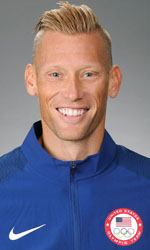 Originally from Newbury Park, California, Casey Patterson stands at 6-foot-6 and dominates at volleyball. In the Rio 2016 Olympics, he teamed up with Jake Gibb for men's beach volleyball.
With his Olympic debut in Rio, Casey Patterson played volleyball for Brigham Young University from 1999 to 2005. Coming relatively late to beach volleyball, he made his debut in 2004 and rocketed to success.
"Casey Patterson made changes," his coach, Tyler Hildebrand, said. "It's hard to change, no matter what you're talking about. But changing your body type by lifting five days a week and eating healthier is really difficult. He also changed the way he trained in the sand."
Teamed up with partner Ty Loomis, Patterson won his first AVP tour victory in 2009. He found further success by teaming up with Jake Gibb in the 2013 season, and they consistently won AVP tours back to back.
Nicknamed "Mr. Boom," Patterson is known for his wingspan and work ethic. Since he hates to lose, his competitive drive combined with his natural skill led him to almost immediate success.
After serving a mission to Little Rock, Arkansas, Patterson is no stranger to missionary work. He takes every opportunity to share the gospel with teammates and competitors.
"You really get to know each other," Patterson said about teaming up with other athletes. "Every partner that I have played with has ended up talking to me about the church and wanted to know more about it. So I would always do my little missionary discussions and tell them all about the church and how it works. All of them have been really open to what I have to say. And a lot of them believe many of the things the church teaches. It has been a real positive experience."
In the 2016 Rio Olympics, however, he remained partners with fellow Mormon Olympian, Jake Gibb. Both men are active members of The Church of Jesus Christ of Latter-day Saints. After an unexpected loss to Spain, Gibb and Patterson lost their chance for gold. However, they stay strong and find support in their families and faith.
Patterson enjoys attending church meetings as he travels. "It has been fun to be able to go to church wherever we go in the world," he said. "We have seen the church in (many) different languages."
While attending Brigham Young University, Patterson met and married fellow volleyball star, Lexi Brown. After they graduated, they spent a year playing volleyball in Sweden, then Patterson continued in Puerto Rico. They have three children: two sons, Cash and Guy, and one daughter, Ray Alexis.
"When you have a dream, you have to better every aspect of your life to achieve it and be truly successful," Patterson said. "Bettering your whole self will allow you to accelerate progress."