Mormon Olympian Jake Gibb
Jake Gibb took an unusual route to becoming an Olympic beach volleyball champion: He played golf and tried out for basketball (but was too short). It wasn't until after he served a two year mission for The Church of Jesus Christ of Latter-day Saints in Costa Rica that he and his twin brother started playing volleyball together in the backyard. Gibb didn't play sports in college at all.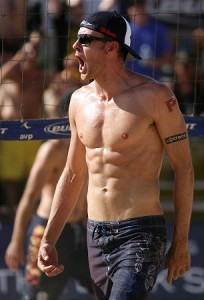 Gibb married, and his wife encouraged him to move to California and try for a career in beach volleyball (since there isn't probably much call for it in Utah, where he lived).  Gibb had graduated in 2002 with a degree in business and was working at a bank training to become a commercial loan officer before he decided give beach volleyball a real try. With $1,600 in his pocket, Gibb and his wife, Jane, moved to California later in 2002. He promised his wife he'd give  up the game, if he weren't playing professionally within two years. She supported the family, and he went to work entering the sport. At the end of the two year time limit, he was ranked number ten in the nation with his partner.
He took his first championship in 2004 and since then has won at least eight titles. In 2005 he became the MVP of the AVP.
He joined his current partner in 2005, when, though top ranked, his former partner decided to go a different direction. Jake could have chosen anyone at that point, and the person he chose surprised many. The two were from backgrounds that were worlds apart. Gibb had grown up in a traditional LDS home, one of eleven children. His partner, Sean Rosenthal, was the child of a drug addict in a single parent home. He never knew his father, while Gibb lists his father has his greatest influence.  Rosenthal was an unknown in the sport and Gibb was the top ranked player. The two hit it off, however, and had matching goals—they both wanted to be in Beijing for the 2008 Olympics.
They set out to build the reputation and skills needed to make it to the Olympics and, as the qualifying date neared, to get the requisite scores needed to qualify. They succeeded and made 5th place in Beijing.
Gibb and Rosenthal began to make an instant impression at the London Olympic Games in 2012, heading quickly for the top.
The duo clinched a spot in the London Games at the FIVB World Tour Rome Grand Slam,. Rosenthal and Gibb secured enough points by reaching the event's semifinals, but they also went on to win the tournament, dominating reigning world champions Emanuel Rego and Alison Cerutti of Brazil in the final (21-13, 21-12).
The youngest of 11 children (six boys, five girls), Gibb's legal middle name is Spiker.
2012 London Olympics Updates:
The beach volleyball tandem of Mormon Jake Gibb and Sean Rosenthal lost to a team from South Africa. They have one more game in the pool rounds on Aug. 1 against a duo from Latvia. The top teams from each of the six beach volleyball pools will advance to the brackets, which starts with a round of 16 on Aug. 3 and 4.
Sources:
http://www.deseretnews.com/faith/mormontimes/
http://www.deseretnews.com/faith/mormontimes/