Jessika Jenson, from Idaho Falls, finished fifth place in the freestyle event in this year's Olympic Winter Games. The event turned into a two-day event because the wind that commenced during the event was so strong. It was so bad that it caused problems for all the boarders.
It was a little saddening as all the women reported that the wind had messed up their routine. Jessika said to Deseret News, "I know that the girls had more tricks out there, but due to the conditions, we had to hold everything back a little bit. We're all just having fun and doing the best we can. When the wind was a headwind, we just didn't quite have the speed for the jumps," Jenson said. "So we really had to get the feel for it and make sure it wasn't a headwind. We tried our best."
"The weather was bad and too dangerous," said bronze medalist Enni Rukajarvi of Finland, "And I got a lot of wind on my run so that was bad. I had a fall and hurt my chin a little (on my first run) so that wasn't too nice. … (The weather) was better in practice, but then it got really bad. They should have canceled it or moved it."
The weather was bad enough that the games added another day to the events. They allowed the women to take the best score of the two days. The final was even pushed back an hour due to wind conditions.
At the end of all the competitions, Jamie Anderson from the U.S. came out on top with the gold medal with a score of 83.00. Silver medal winner was Laurie Blouin from Canada and Enni Rukajarvi from Finland took bronze.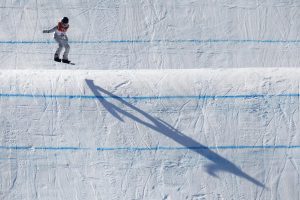 Jessika Jenson finished fifth place. This last winter Olympics in 2014 was her first Olympic games. She came in 13th place in the Sochi games. In 2015, Jessika won third place in the World Cup Competition.
When Jessika was just 6, she started skiing at Kelly Canyon by Rigby Idaho. At the age of 10, she switched to snowboarding. Every weekend her family would go to the slopes. They would "pretend to know what we were doing…we eventually caught on," she says.  From there, her love for snowboarding began and her goals for the Olympics started. She grew up in Idaho with her Mormon family. Here she was taught the value of hard work.
Jessika has had a blast in this year's Olympics. Even though the competition has been a little unpredictable, Jessika has competed well. There is so much support over on her
Instagram
from cheering fans. She is grateful for the support of her family, friends, and sponsors.
Despite the hard and unexpected crazy competition, the girls are proud of their accomplishments. Hailey Langland, another American snowboarder said, "The girls rallied, and we had a really good final. It's hard to be up there knowing you might not finish your run just because of the wind, but I mean, that's why those girls are on the top of the podium because they rallied and got it done."