August 8, 2016
With the Olympics already in full swing, athletes from all over the world are competing for gold. From rugby to volleyball, here's how members of The Church of Jesus Christ of Latter-day Saints are currently fairing in their respective events:
Taylor Sander: USA, Men's Volleyball
In a lackluster qualifying game against the Canadian volleyball team, Team USA's debut was plagued with errors, which led them to lose to Canada (25-23, 25-17, 25-23). "I don't know if it was nerves or what," Taylor Sander said about the first match, "but I'll come back, watch some video and mentally prepare better."
Canada won 28 points from Team USA's errors, and Sander takes much of the blame. "I think my decision making wasn't good attacking," he said. "I thought I passed the ball well, but my decision making, it was my fault. I'll learn from it and move on."
However, Team USA has plenty of opportunities to improve their performance. Scheduled to play against Italy on Tuesday, August 9, Sander won't let his disappointment negatively affect the next game. "It's the first game of the Olympics, so it doesn't feel great, but yeah, we have a good opportunity ahead of us, and a lot of games left in this pool. And that's what we're going to kind of turn our heads to now."
Sander found fellow Brigham Young University athlete, Jared Ward, at the Opening Ceremonies. Ward, who will run in the Men's Marathon event, will compete on Sunday, August 21, for the gold medal.
Jake Gibb and Casey Patterson: USA, Men's Beach Volleyball
On Saturday, August 6, Jake Gibb and Casey Patterson beat Quatar's beach volleyball team (2-0), Jefferson Santos Pereira and Cherif Younousse. They are set to play Austria on Tuesday, August 9, at 1:30 (MT).
After the Opening Ceremonies, alternate Team USA gymnast and fellow Mormon, Mykayla Skinner, tweeted a hilarious picture of the beach volleyball athletes (Casey Patterson, left; Jake Gibb, right) with her and another gymnast alternate (Mykayla Skinner, left middle; Regan Smith, right middle).
Maka Unufe: USA, Rugby Sevens
Maka Unufe attended the Opening Ceremonies, pictured second from the right on the back row. The U.S. rugby team will play against Argentina in a qualifying round on Tuesday, August 9, at 10:00 a.m. (MT).
Valerie Adams: New Zealand, Shot Put
Valerie Adams, who traveled to Rio on August 7, will compete in the women's shot put on Friday, August 12.
https://twitter.com/ValerieAdams84/status/762323979067543552
Leilani Mitchell: Australia, Women's Basketball
After beating Brazil on the first day of play (84-66), Australia's women's basketball team went on to beat Turkey (61-56). With rounds of play still ahead of them, Australia will face France on Tuesday, August 9, at 9:15 a.m. (MT), Japan on Thursday, and Belarus on Saturday.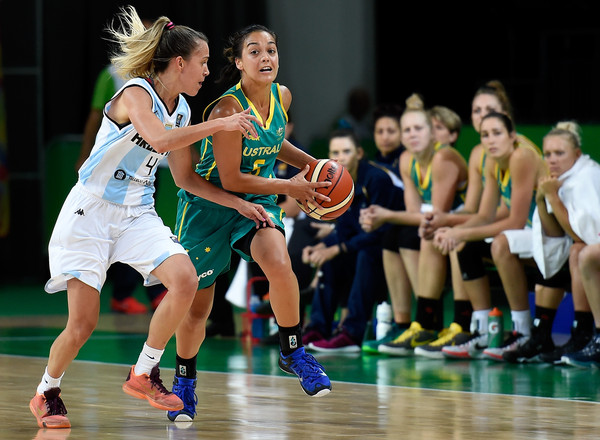 Jared Ward: USA, Men's Marathon
Although he won't be running his marathon until Sunday, August 21, at 6:30 a.m. (MT), Jared Ward (bottom right) will be in Rio training and living in the Olympic village. He enjoyed the Opening Ceremonies, and tweeted a picture with fellow Mormon athlete, John Nunn (top right).
John Nunn: USA, Race Walking
Meanwhile, race walker John Nunn tweeted a beautiful view of the Olympic Village in Rio at night. He and Jared Ward are roommates in the Olympic Village. Nunn will compete in the men's 50km walk on Friday, August 19, at 5:00 a.m. (MT).
More LDS athletes will be competing in track and field events, like Lydia Casey Jele (Botswana) and Tatenda Tsumba (Zimbabwe), which will take place during week 2 of the Olympics. LDS weightlifter Sarah Robles will compete in the women's weightlifting over 75kg category on Friday, August 12.
For a list of Mormon Olympians attending the Rio 2016 Olympics, visit LDS.net.