It's strange to find a group of college players in the Premier Development League, but that's exactly where you'll find these Mormon men.
When Brigham Young University, a private school run by The Church of Jesus Christ of Latter-day Saints, chose not to sanction their soccer team to be in the NCAA even after the Cougars won their seventh national Collegiate Club title in nine years, BYU soccer coach, Chris Watkins, knew it was time to find a new way to push his players. Watkins said that the idea of competing in the Premier Development League came to mind like inspiration.
The Premier Development League, part of the United Soccer Leagues, is the top amateur soccer league in the United States and Canada and it's uncommon for universities to compete in it. In fact, it's so uncommon that Brigham Young University is the only university soccer team ever to participate in a level higher than the NCAA. In order to compete in the PDL, the BYU soccer team had leave the collegiate devision of soccer, purchase a franchise and play year-round in this league designed to develop players individually and as a team for professional play.
But this unique prestige has come with it's unique challenges as well.
When they first entered the minor leagues, the choice seemed like a mistake. The team only won two games in their first season. Watkins commented:
"We just got hammered. We didn't deserve to win any more than the two."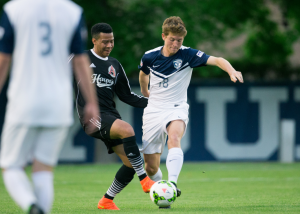 But those early failings, what Watkins calls "an all-time low for me personally and for many of our players," motivated the team to develop in new ways. After consistently winning national championships, the Cougars needed the new challenges that competing in the PDL provided. It's these obstacles that gave them the resistance they needed to become stronger.
And for Major League Soccer hopefuls, that is exactly what they need. The PDL slogan is "Path to Pro." But according to current coach, Brandon Gilliam, "[BYU] players aren't just looking to go professional in soccer." According to Gilliam, they just want to develop their players the best they can and they believe that the Premier Development League is just the way to do that.