Ezekiel "Ziggy" Ansah and the Evolution of Social Media
With the vast expanse of social media technology, the ability to be included in many social circles simultaneously, and thus remaining in the know, as well as being known, has become extremely efficacious. Seth Godin, an American entrepreneur, author and public speaker has said, "Marketing is no longer about the stuff that you make, but about the stories you tell." Sandra Chami Kassis, a Lebanese author, stated, "We are the generation of Social Media, Our biggest Revolution is a Tweet of 141 Characters." And Charles Leadbeater, a leading authority on innovation and creativity, has cautioned that "You are what you share."
Using Social Media to Analyze "Ziggy" Ansah and the NFL Draft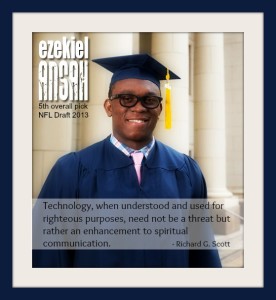 Sports fans followed the recent NFL draft picks with great anticipation to see who would be added to the roster of their favorite teams. One of the people who captured the attention of the sports world was Ezekiel "Ziggy" Ansah who was selected fifth overall in the NFL draft. Ansah, who was born and raised in Ghana, is a BYU graduate and a member of The Church of Jesus Christ of Latter-day Saints (inadvertently referred to as the Mormon Church by the media and others). He will be playing for the Detroit Lions.
In his May 15th article for the Deseret News titled Dick Harmon: Utah Analytics Company Breaks Down BYU's Ziggy Ansah and the NFL Draft, the author, Dick Harmon noted "In all aspects of media, especially sports, it has become a force of nature — breaking news, engaging fans and delivering people directly to everyone." [1] He further noted that "there were more than 30,000 tweets on Twitter about Ziggy Ansah before and after Detroit drafted him. And, connections to those who tweeted about him represented a potential audience of 53 million." [1]
Ansah, as it seems, became one of the prominent topics of discussion in the realm of social media during the NFL draft picks. Harmon, in his Deseret News article, points out that by carefully analyzing the social media activity surrounding Ansah and the NFL draft, it could easily be determined not only what types of things were being discussed when the Detroit Lions picked Ansah in the first round, but also who was making the comments and their locale. He also mentions:
Social media traffic about Ansah around the Detroit area was neutral or negative before the draft, but on draft day [it] turned positive. And the second-most interesting thing about Ansah on the Internet wasn't his speed, size or his unique story of having never played football until a few years prior to the draft. It was his glasses.

That's right, the lensless, black-rimmed glasses Ziggy wore on draft day drew so much attention around the world, they became one of the biggest features about him. And the attention led to free admission for Ansah to 3D IMAX movie theaters for one year. [1]
Gauging and Measuring Social Media Traffic
A startup business out of Sandy, Utah, called NUVI, is a real-time analytics platform for social media called "visual intelligence." Visual intelligence is also called "visual processing" ability. It is the ability to generate, store, retrieve and transform visual images and sensations. It helps to make social conversations on the web "actionable" and "insightful." According to Harmon's Deseret News article, the data that is used in the analytics is retrieved from social media platforms to include: Twitter, Facebook, Google Plus, YouTube, Delicious, Reddit, Flickr, Vimeo and more than 3 million RSS feeds.
One of the vice presidents of the company is former BYU linebacker and defensive captain Cameron Jensen. Jensen has stated,
[The analytics gathered by NUVI] can tell you that top draftees Eric Fisher (Kansas City) and Luke Joeckel (Jacksonville) may have been judged by NFL gurus to be similar at the top of the college heap, but Fisher is by far more popular, more well-known and has more positive vibes in cyberspace. And much of that is because Fisher tweets more on Twitter, has more followers and engages with them in a back-and-forth discussion. [1]

Conversely, Notre Dame Linebacker Manti Te'o's negatives were high before, during and after the NFL draft. He had similar negatives as West Virginia quarterback Geno Smith. Both slipped down the ladder on draft day. [1]
The tools used by NUVI can break a subject down by topic, by source, by geography, by intensity and by time. Jensen said, "People are talking about your brand, whether you are listening or whether you care about it or not. They are talking about you and discussing you." [1]
Additional Resource: