The Reason Mormon HS Basketball Icon Jabari Parker Chose Duke
Many Jabari Parker fans waited in great anticipation for the big announcement as to which school Jabari would be playing for in 2013. There were some who believed that Brigham Young University would be the school that he would choose, especially considering that he is a devout member of The Church of Jesus Christ of Latter-day Saints (more commonly referred to as the Mormon Church.) However, much to their surprise, of all the major universities that were vying for his outstanding athlectic prowess for their team, on Thursday afternoon, 20 December 2012, he announced in a nationally televised press conference held at Simeon Career Academy in Chicago, that he will be attending school at Duke University. His official decision brings to a three year recruiting process to an end.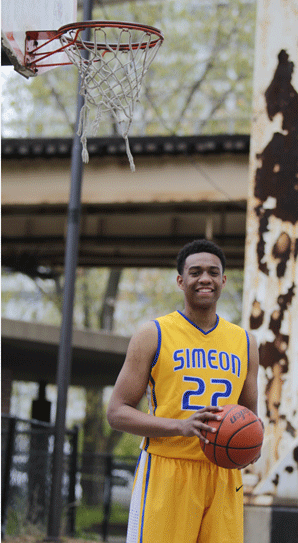 There were fans that were disappointed with the decision that Jabari made, but it should come as no surprise to anyone that the top high school basketball player in the country would want to play for the top coach, Mike Krzyzewski, who is considered by many to be second only to the late John Wooden on the short list of all-time greatest college coaches. Krzyzewski also coaches the U.S. Olympic team, and Olympians LeBron James and Kobe Bryant have both said that if they had gone to college they would have gone to Duke University. That speaks a myriad of words in and of itself.
From a basketball standpoint, Jabari Parker and Mike Krzyzewski are a match made in hoops heaven. But their relationship already runs deeper than the hardwood. For starters, Krzyzewski understands and respects Jabari's faith. Jabari will not be the first Mormon to play for Duke. More importantly, Krzyzewski has a philosophy and lifestyle that is ideally tailored to accommodate Jabari's personal goals and priorities. [1]
Coah Krzyzewski is more than just a basketball coah. He has a genuine concern for all of his players and stresses the importance of academic excellence, holds each player to the highest standards, and helps to prepare them to be successful in life long after their baskeball playing days are over. With that type of profile, it can safely be said that Jabari is in good hands not only to achieve success in his basketball career, but in being prepared for life beyond the basketball court as well. Any of the schools that recruited him may have been a good fit for him, a few may have been better than the others, but it appears that Duke was the best choice.
"I decided I wanted to play for someone I admired, someone that could help me reach my basketball goals and my long-term goals," Parker said. "I was looking for someone I could look up to, someone that could teach me the game, as well as what's most important in life." [2]
During his visit to the Parker home on 21 September 2012, it was something that Krzyzewski said at the end of his visit that impacted Parker the most. "Jabari, a good name is better than anything you can achieve in this life," he told him. [2]
As the final days of making the decision of which school to play for drew near, Krzyzewski visited the Parker home once again on the evening of Tuesday, 18 December 2012. The last thing he said to Jabari was, "I believe in you, Jabari." [2]
The decision on which school to attend was by no means an easy one for Jabari to make. He felt a strong connection to all five of his final schools and didn't want to disappoint four of the coaches. After Krzyzewski left his house that Tuesday evening in December, Jabari and his brother, Christian, had a heart-to-heart talk. Christian then quoted a verse from Matthew 7:16: "By their fruits ye shall know them." Jabari paused and felt at peace with his decision when Christian said, "Coach K can show you the fruit." [2]
Additional Resources:
The Official Website of Coach Mike Kryzewski
Basic Mormon Beliefs and Real Mormons
http://youtu.be/b8qKIkhyRHU
http://youtu.be/bos8QfIoz5E