After 15-year-old Valerie Adams of New Zealand watched the 2000 Sydney Olympic Games, she told her mother, Lilika, that she would become an Olympic competitor one day. A few months later, when her mother passed away, she resolved to keep that promise to her mother.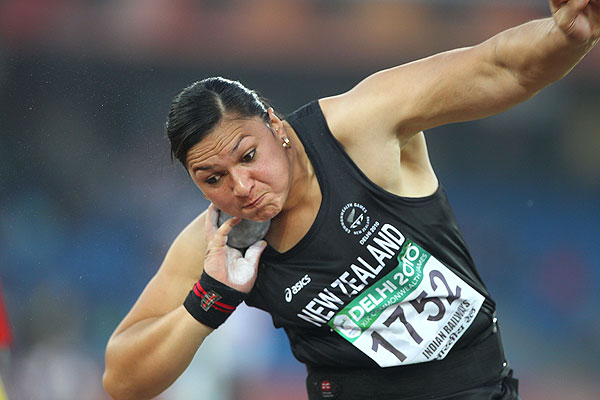 "My mum was everything to me. She sacrificed for us and was my inspiration. We grew up strong in our culture. When she died, it was tough for me and my family. But I was determined to make her proud," she said.
Adams, who is a member of The Church of Jesus Christ of Latter-day Saints, competed in women's shot put in the 2004 Athens Olympics, 2008 Beijing Olympics, 2012 London Olympics. A two-time gold medalist, she finished ninth in 2004, and won gold in 2008 and 2012. At 6'4" she is a strong and nimble competitor with a wide wingspan—the perfect build for the shot put.
Valerie Adams will be competing in the 2016 Rio Olympic Games in August 2016, which will be her fourth Olympic appearance. Her current coach is Jean-Pierre Egger.
By the time she was 18 in 2001, she was the world youth champion, and became the world junior champion and a Commonwealth silver medalist in 2002. She finished ninth in the Olympics in Athens in 2004, just weeks after an appendectomy. After one of the top eight shot putters tested positive for drugs, she placed eighth.
In 2005, she broke the New Zealand and Oceania records and won a bronze medal at the World Champs. In 2006, she won gold at the Melbourne Commonwealth Games, and in 2007, she won her first world title at the World Athletics Champs. She was throwing over 20 meters by 2008, consistently beating more experienced competitors. At the 2008 Beijing Olympics, her 20.56 meter throw won Olympic gold.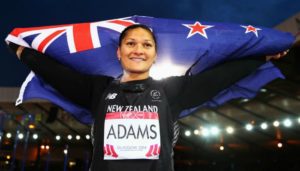 After she won gold, many witnessed Adams wave her strong arms with the New Zealand flag draped over her shoulders, as she searched the spectator stands for her family and coach Kirsten Hellier.
After Nadzeya Ostapchuk won gold in the London 2012 Olympics, the Belarusian shot put champion was caught in a doping scandal. Valerie, who won the silver medal in women's shot put, was awarded the gold medal.
Revered by New Zealanders, Adams is also respected in the athletic community for her humility and determination. Australian hurdler, Sally Pearson, named the 2011 world female athlete of the year, spoke of Adams, her fellow nominee for the award.
"Valerie just dominates every time she's out there. She's the role model athlete everyone should look up to."
In her spare time, she enjoys family and friends. She has several brothers who are over seven feet tall, and her youngest brother, Steven, played basketball at Notre Dame Prep in Massachusetts before playing for the Oklahoma City Thunder in the NBA.
In addition, Valerie is an advocate for athletes and also speaks for many charities. In 2009 she was made an officer of the New Zealand Order of Merit for her service to athletics. She also was named the New Zealand Sportswoman of the Year each year from 2006 to 2011 and received the prestigious Halberg Award in 2008 and 2009.
Article written by Jan
Additional Resources:
Basic Mormon Beliefs and Real Mormons
The Lord Jesus Christ in Mormonism