Torah Bright
Torah Jane Bright, an Australian professional snowboarder, was born to Peter and Marion Bright on 27 December 1986 in Cooma, New South Wales. She is the fourth of five siblings. Her parents named her Torah after her mother learned that in addition to a reference to the first 5 books of the Bible (known as the five books of Moses), "Torah" means "bearer of a great message." She grew up in Cooma, New South Wales where she attended Cooma North Primary School located at the base of the Snowy Mountains, and eventually became a downhill ski racer. When she was 11 years old she took up snowboarding and was coached by her brother, Ben,  who is a professional snowboarder. Three years later she turned pro.
Living Her Life According to the Principles of the Gospel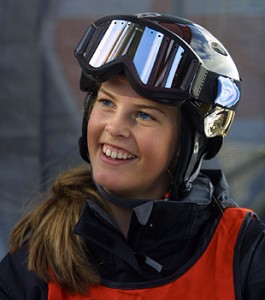 Bright is an Olympic gold medalist who lives and trains in the Salt Lake City, Utah area. She is a member of the Sugar House Ward, Salt Lake Sugar House Stake of The Church of Jesus Christ of Latter-day Saints (inadvertently referred to as the "Mormon" Church by the media and others) and has commented, "For me it's just a way of life – I don't drink, smoke, drink tea or coffee, or have sex before marriage. I've never drunk or smoked but I'll go out to dance and stay up late and then drive home at the end of the night." [1]
A few years ago, her older sister, Rowena, who competed in the 2000 Salt Lake City Olympics, commented:
Torah is as kind as she is beautiful. She is one of my greatest friends and for a 19 year old she is wise beyond her years . She is quirky and fun, but has a great perspective on life and her talents because of the principles of the gospel of Jesus Christ that she tries to live by. I watch her and learn. This Olympics is going to be a great one for our family, not only if torah performs her best, that is beside the point. We are all happy to be going to Italy to celebrate Torah and all she has become but also to reunite as a family – we have not all been together in the one place for many years. Though we have been separated a lot by traveling with our sports/careers, we love being together. We have grown up knowing that our family bonds are the most important of all. I imagine there that there will be a lot of fun, laughter….. and dramas!
Torah now lives in a renovated historic home in Salt Lake City, Utah.  She follows winter around the world in order to pursue her sport.  She spends half the year training in New Zealand and Australia.  Her brother is her on-snow manager and coach.  Torah has earned medals in many competitions and has  earned awards, including the 2007 TTR Womens World Tour champion, the gold at the 2007 Winter X Games, two time World Super-pipe Champion, Nippon Open, and the overall winner of the 2007 Burton Global Open Series. At the Vancouver Winter Olympics of 2010, Torah brought a timely flash of excellence to an otherwise messy night on the half-pipe to win Australia's fourth winter gold. On 5 June 2010 Bright married Jake Welch, himself a pro-snowboarder, in the Salt Lake Temple. The couple have since separated.
Preparing for the Russia XXII Olympiad
Torah Bright is now training to compete for Australia in February 2014 at the Russia XXII Olympiad which will be held in Sochi, Russia. In an August 2012 ABC television documentary, Bright talked about the things that she had to take into consideration when making her decision to compete, and the strength that she has gained from the support of her family. She also spoke about her childhood on skis on Australia's slopes, about meeting her husband, and about how her life has been guided by the principles of the gospel that she has learned as a member of The Church of Jesus Christ of Latter-day Saints. Her personal motto is, "Live your life with honor, humility, love, laughter and passion always within you" (unknown). She has also stated that her personal goal at the 2014 Olympic Games is to "Enjoy the ride and put in a good show." [2] She is is aiming to represent Australia in three events at the Olympic Games in Sochi – halfpipe, slopestyle and snowboard cross.
She's already qualified for February's Sochi Games in halfpipe and slopestyle – two events in which she can win medals – and will spend much of this month attempting to get over the line for snowboard cross.

"Benny's whole mentality with doing these three events is that you may crash and burn in all three but it's about becoming a better snowboarder and it's about creating a better connection to your snowboard," Bright says.

"Time on snow, no matter what you are doing, is invaluable. And it is proving to be right in my opinion.

"I'm spending that much time on my snowboard that I am more confident than ever as well."

Bright says she'd rather an "oh well" than a "what if". [3]
Olympic Games Update
On Thursday, 6 February 2014, the day before opening ceremonies of the 2014 Winter Olympic Games in Sochi, Russia, Torah Bright qualified at the Rosa Khutor Extreme Park in Krasnaya Polyana, Russia to compete in the finals in the women's snowboard slopestyle on 9 February. Before the qualification round, Bright tweeted, "What a beautiful morning to start the slope style qualifications. Cheering on all my fellow shredders." [4]
In the slopestyle competition, six judges score the competitors on a slope that is comprised of various obstacles, like rails, quarterpipes and jumps. Each competitor gets to run the course twice, and the best of their two scores is the one that counts. Bright's best score was 85.25.
Bright competed in the snowboard slopestyle discipline during the 2014 Winter Olympic Games in Sochi, Russia and finished seventh overall. "The inaugural slopestyle event included three jib sections with rails for the athletes to ride and three large jumping hills. In her first ride, she put down a score of 64.75. On her second run, she received a 66.25, which included a front-side 360-degree turn with a smooth landing and 900-degree turn with a bobbled landing." [5]
She also competed in the halfpipe competition on 12 February winning the silver medal in the women's snowboard event at the Rosa Khutor Extreme Park in Krasnaya Polyana, Russia. She was a gold medalist in the event in the 2010 Winter Games in Vancouver.In the competition, riders are required to do aerial turns, with each competitor taking two rides on the halfpipe, with the best of the two scores being the one that counts. Bright scored 91.50 on the second run and 58.25 on the first run, and took one of the top spots in the qualification round for the finals.
During President's Day weekend, Bright competed in her third event of the Winter Games — snowboard cross, or commonly referred to as boarder cross. She ended taking 5th place overall of six in the quarterfinal run after experiencing a fall when she tried to move ahead of another competitor.
Other Resources:
Religion gives Olympian Bright a boost (article)
Torah's Example of Faith, Dedication