Mormon Olympian Tairia Flowers
Tairia Flowers has an extremely impressive resume, suitable for a member of the Olympic softball "Dream Team." The American team has won every gold since softball was added to the Olympics. They've won three times in a row and made a good run for a fourth, losing in a game against Japan.  Japan took the Gold at Beijing, with the USA team coming in second for Silver.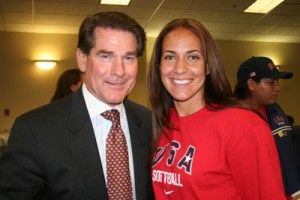 Her winning streak goes at least as far back as college. During her time there she was a National Champion and was twice an All-American. She took home gold at the US Cup, the ISF World Championship, and the Pan American Games. Most importantly, she also took home gold from the 2004 Olympics in Athens, Greece.
Tairia is married to Jason Flowers and has a step-daughter. She has said if she could be someone else, she'd be Laura Berg—the other LDS Olympian on her team. Her nickname is Mims.
Her skills have consistently improved, something she attributes in part to the fact that when not training for the Olympics, she now only plays part-time, allowing her to be more relaxed about her work.
Although she took home gold in Athens, she suffered from Crohn's Disease during the pre-Olympics tour. She was forced to go on bedrest and had been down for several weeks when the Olympics began. Her diet, consisting only of bread and plain pasta was certainly unusual for a competing athlete, but despite this, she persevered and played. Coincidentally, the gold medal game occurred on her first wedding anniversary.
Tairia is an assistant coach at Long Beach State University.
Sources:
http://www.tairiaflowers.com (Her personal website)
http://www.active.com/softball/articles/Tairia-Flowers_-Hitting-softballs-one-eye-at-a-time_old