Mormon Olympian Shauna Rohbock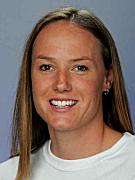 U.S. bobsled driver Shauna Rohbock was preparing for a World Cup race in Lake Placid in 2003 when she got the call. Her country needed her, not on an icy track in New York, but also on the ground in Iraq. Shauna is in the National Guard.
Shauna was born in Provo, Utah, and raised in Orem, Utah. She has been athletic all of her life. She grew up playing soccer and ran track and field as a youngster. As a student-athlete at Brigham Young University (BYU), she was named All-American as a heptathlete twice in both sports.
Shauna competed in the bobsled at the 2006 Winter Olympics in Turin, Italy, winning silver in the two-woman event with teammate Valerie Fleming. Her best overall finish in the Bobsleigh World Cup was second in 2006-2007 with Fleming. She won her first career World Cup win at the Calgary race, followed by a second win at the World Cup held in Park City, Utah on December 8, 2006. She delivered a 48.73-second run that shattered the Park City track record previously set by Jill Bakken in 2002. She and Fleming have also won bronze medals at the World Championships in 2005 and 2007. Rohbock has competed in bobsleigh since 1999. At the 2009 world championships in Lake Placid, New York, she won a silver medal in the two-woman event with Elana Meyers, then won bronze in the mixed team event (Wikipedia).
Watch a video about Shauna – 2010 Profile video