By Rebecca
Russell Holmes is one of a dozen Mormon athletes, who have qualified to compete in the 2012 Olympics, in London. Each Mormon Olympian not only represents his or her country but also represents Christ as a member of The Church of Jesus Christ of Latter-day Saints (commonly referred to as the Mormon Church by some). Russell enjoys soccer, volleyball, surfing, and snowboarding [1] but currently plays on the U.S. Men's National Volleyball Team as a middle blocker. "The team will leave its training headquarters in Anaheim, California, on July 19 [to compete in the 2012 Olympic Games]." [2]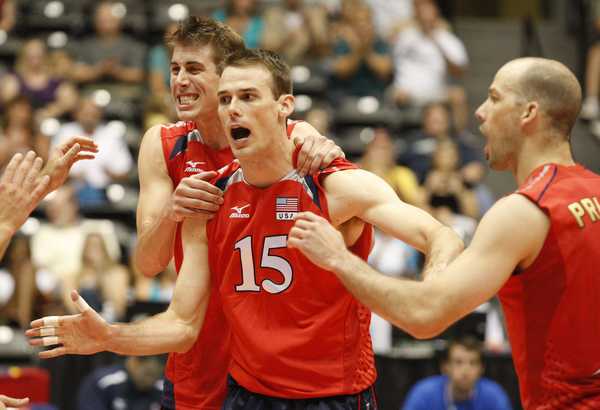 The Mormon athlete's talent began to manifest itself as a Californian soccer star, until Russell's friends convinced him to try volleyball.
From age 4 until 17, his passion was on the soccer field, not the court. He never planned on pursuing volleyball until his friends eventually coaxed him into giving it a shot. He was a junior in high school and a star soccer player at the time.

"So I thought why not give it a try," Holmes said. "I didn't know I was going to be so tall." The idea to switch sports came easily for the 6-foot-8 Holmes [3]
Russell studied sociology, married his wife Julie, and played volleyball while attending Brigham Young University (BYU). [3] He started out of shape, because he had taken a break from being a Mormon athlete to serve as a Mormon missionary for two years, preaching the gospel of the Lord Jesus Christ in London, England. [1]Upon returning, he passed out during his first day of workouts in the BYU weight room. Fortunately, he quickly moved up from being a redshirt freshman to captain of BYU's men's volleyball team.
"He's our team captain," Millar said. "He has a nice, calming influence on the guys when they get too riled up."… Holmes' coaches say his steadying personality and consistent play is a stabilizing presence during the matches.

"He's like another coach on the floor," BYU co-head coach Shawn Patchell said.

…Holmes was recently selected the Sports Imports/American Volleyball Coaches Association National Player of the Week, making him one of five nationally recognized BYU Cougars this season. [3]
Some of the Mormon athlete's accomplishments include being an Eagle Scout, father, one of Volleyball Magazine's Fab 50 (2001), and more—
The U.S. Men's National Volleyball Team was awarded the 2012 FIVB World League silver medal on Sunday after falling to Poland in the championship match, 25-17, 26-24, 25-20. The U.S. Men completed the World League Final Round with a record of 2-2 and completed the 2012 World League with an overall record of 11-5… Middle blocker Russell Holmes (Fountain Valley, Calif.) finished with seven points on four attacks and a team-high three blocks. [2]

In 2001 his Long Beach club team won the Junior Olympics gold medal and he was named an All-American…

MAJOR INTERNATIONAL COMPETITION: 2012– NORCECA Men's Continental Olympic Qualification Tournament (gold medal). 2011 – FIVB World Cup… London Volleyball International Invitational (Bronze Medal)… FIVB World League. 2010 – FIVB World Championship… FIVB World League. 2009 – Brazil Tour… FIVB World League. [1]
Family life is very important to the Olympian Russell Holmes. He considers "[h]is happiest moment in life was witnessing the birth of his daughter. [1] He works hard to provide for his family and believes modern teachings from the prophets—
The family is ordained of God… Happiness in family life is most likely to be achieved when founded upon the teachings of the Lord Jesus Christ… By divine design, fathers are to preside over their families in love and righteousness and are responsible to provide the necessities of life and protection for their families. [4]
Russell Holmes played well during the American Olympic volleyball team's advancement through the London 2012 competition.  By Thursday, August 2nd, the Americans were undefeated in the preliminary round.  The U.S. entered the quarterfinals after going 4-1 in pool play and posting three straight-sets victories.  The US, however, lost to Italy.  Italy lost to Brazil, which team took the Silver Medal.
Additional Resources:
Mormon Beliefs: Missionaries teach families the restored gospel of Jesus Christ
Read an article about LDS race-walker, John Nunn
Visit your local Mormon church