Mormon Olympian Rich Lambourne
At 33, Rich Lambourne made his first appearance at the Olympics in Beijing. He was the designated libero (defensive specialist) for the United States indoor volleyball team.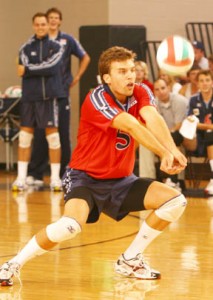 Rich started his sports career as a baseball player, but changed sports in high school because his friend was a volleyball player and they wanted to play on the same team. In 1992, he played well enough to make the Junior Olympics team and was first team Mizuno All-American.
He took two years off his sports career to serve a mission for The Church of Jesus Christ of Latter-day Saints in Japan. He then headed for Brigham Young University, owned by the LDS Church, because his mother, whom he lists as the person he most admires, asked him to. He chose BYU despite offers from Stanford and Long Beach State. During that time, he made an impressive name for himself. At this time, he was an outside hitter and in his freshman year, was already ranked number four in the nation. Rich did not play his senior year, because he had already earned his degree in International Relations (Japanese.)
In 2000, Rich joined the National Team and switched to the libero position, new to the sport, because his jumping skills were acceptable, but not outstanding. Liberos wear a different color of jersey and are not allowed to spike the ball. Nor do they generally play on the front lines. He found the position less exciting, but he was good at it, quickly reaching the number two ranking. Of course, there is only one libero on each team, and being second best didn't win him a spot on the 2004 Olympic team except as an alternate. However, once those Olympics ended, he became a starter.
Coming into Beijing, the men's indoor volleyball team was ranked third, giving them a good shot at a medal.
Tragedy struck the Olympic Men's Volleyball team a few hours after the opening ceremony in Beijing. Their coach's father-in-law was killed and his mother-in-law left in critical condition when someone stabbed them and then killed himself. The team began play with a moment of silence but without their coach to guide them. Despite the stress and sorrow, and the challenge of being without their coach, they won their matches while he was with his family. He returned on Saturday, leading them to yet another victory.
The last time an American team took an Olympic medal was in 1992, but at Beijing they took the Gold.
Rich was also a major player on the U.S. volleyball team at the 2012 Olympics in London.  By August 6, 2012, the team had gone 4:1 and qualified for the quarter finals.  Though ranked 5th in the competition, the team hoped to surprise their critics with a gold medal.  The US team lost to Italy, however, and then Italy lost to Brazil, which team took the Silver medal.
Sources:
http://www.deseretnews.com/faith/mormontimes/
http://www.sltrib.com/olympics/ci_9998282
http://www.ocregister.com/news/team-171567-olympics-thing.html
http://famousmormons.net/olympians2.html
http://www.staradvertiser.com/?AID=/20080818/BREAKING02/80818040/-1/SPORTSFRONT