Paul Schulte, a member of The Church of Jesus Christ of Latter-day Saints, is a wheelchair basketball Olympian. Originally Paul had said no to wheelchair basketball. After suffering a spinal cord injury in a car accident at the age of 10, the young sports enthusiast thought that his dreams of playing sports was over. It was not until the age of 14 that he finally decided to give wheelchair basketball a try, but not without some skepticism.
"When I first heard about (wheelchair basketball), I wasn't sure what to think," Schulte said. "I didn't know whether it'd be competitive or athletic, but then once I understood and learned more about the sport, what Paralympics really was, what college wheelchair basketball was, that's when everything changed." [1]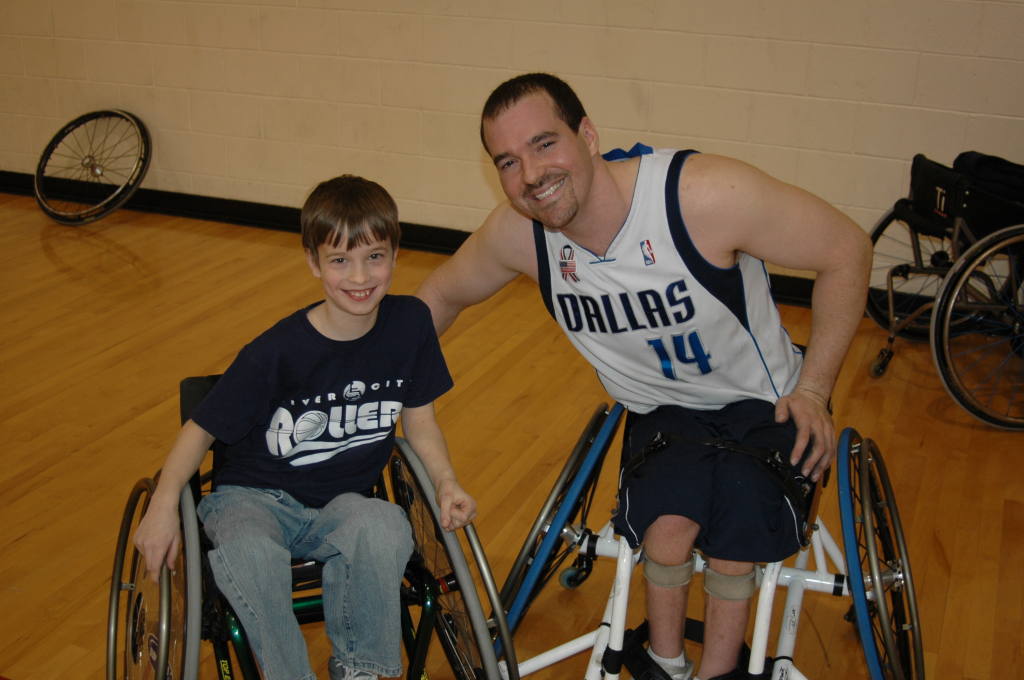 Before deciding to give wheelchair basketball a try, Schulte had been playing recreational basketball with his friends. He was the only one in a wheelchair trying to keep up with guys running up and down the court, but Schulte said that he saw it as a challenge, not an obstacle.
At the young age of 19, Schulte became the youngest player ever to claim a spot on Team USA's men's wheelchair basketball Gold Cup team. He averaged 15 points per game en route to Team USA's gold medal. In the gold medal game of the 2002 Gold Cup, he orchestrated an MVP performance with 32 points, earning another USA gold medal. In between those two gold medals, the team won the bronze at the Sydney 2000 Paralympics Games, with 21 year old Schulte scoring the winning shot. He is still hoping for a Paralympics gold medal.
Since winning the bronze medal at the Sydney 2000 Paralympics Games, the Men's Wheelchair Basketball Team has struggled at the Paralympics Games. Since 2000 they have won three gold medals, a silver medal, and a bronze medal in international competition, however, they finished seventh at Athens in 2000, and lost to Great Britain in the bronze medal game in Beijing in 2008. Nevertheless, Team USA is hopeful and is looking to participate in the London 2012 Paralympics Games.
Despite an apparent draught that traces back to the Seoul, Korea 1988 Paralympics Games, their dominating performances have many thinking that they may win their first gold medal in 24 years. Between this year's BT Paralympics World Cup and last year's Parapan American Games, the team has managed to outscore its opponents by an average of 33 points.
"We've got 12 guys we know we can win a gold medal with," Schulte said. "I think everyone looks at our team on paper and says 'Holy cow'. Any guy on our bench could arguably start for any other country." [1]

"The speed of the game has a real effect on scoring," Schulte said. "Some hard work is really paying off. Lots of guys are scoring from lots of areas. I think the combination of team speed and getting to the basket has worked really well for us." [1]
Schulte received a degree in Mechanical Engineering from the University of Texas at Arlington in 2005. While in college he played on the University of Texas (U.T.) Arlington Wheelchair Basketball team from 1997-2002. During his senior year, U.T. Arlington won the National Intercollegiate Championship. For his outstanding efforts and academic achievements, Schulte was named National Intercollegiate MVP, First Team All-American, Academic All-American and a co-winner of the Sportsmanship Award. [2]
Today, Schulte is an international star in the sport of wheelchair basketball. His global achievements on the court have included: [2]
Gold Medals as a member of the USA Men's Team in the 1998 and 2002 Gold Cup (World Championships)
Selected Tournament MVP of the 2002 World Championships
Silver Medal in the 2006 Gold Cup
Bronze Medal in the 2000 Paralympics
Gold Medal in the 2007 Parapan Games in Brazil
Competed at the 2008 Paralympic Games in Beijing, China.
When he is not traveling the globe representing the United States, he works for Top End, which is a sports chair manufacturer, as an engineer and plays basketball for the Dallas Wheelchair Mavericks.
Schulte is excited to know that he will be playing an hour and a half from where wheelchair basketball originated. The Stoke Mandeville Games, the predecessor to the modern Paralympic games, were established as a sporting competition for spinal cord injured World War II veterans. First held in Stoke Mandeville, England in 1948, wheelchair basketball was one of the main events and has remained a Paralympic favorite since the first Paralympic Games in 1960. Add to the excitement that his wife and three-year-old son will be seated in the stands cheering him on, and this will no doubt be his most memorable Paralympic Games yet.
In the London paralympic games 2012, the USA men's wheelchair basketball team, including team co-captain Paul Shulte, lost 59-50 to Turkey and beat the team from Italy 77-51 during the preliminary rounds. Shulte scored three points in the game against Turkey and two against Italy.
The United States men's wheelchair basketball team beat Spain 63-55 in the last round of games in the preliminary round. The USA men's team was then 3-2 in the preliminary round and would go on to compete in the elimination brackets, along with a shot at a medal.   Schulte, of the Bradenton Florida Stake,  played about 18-and-a-half minutes and scored four points. He also had five assists.
Additional Resources:
Jesus Christ, Our Lord and Savior
Thomas S. Monson – President of The Church of Jesus Christ of Latter-day Saints