Mormon Olympian Nonila "Noni" Wharemate
Born January 17, 1982, 5'7" tall, 148 pounds, Noni Wharemate plays guard for the New Zealand women's basketball team (nicknamed the Kiwis). She advises young woman pursuing Olympic dreams to remember that nothing can replace the need for hard work. Noni feels that many wrongly assume that the only way to be a top notch athlete is to have an innate talent. She comments, "The fact is you can develop talent from hard work, especially if you start doing it at an early age. If you want to be the best player you can be, you need to not only produce a great individual performance, but you have to be able to make the players around you better and get the most out of them too."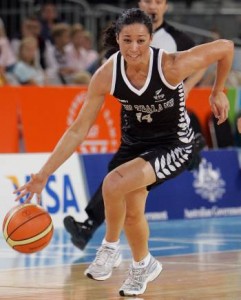 It's that spirit of hard work and teamwork that shines out in this LDS basketball player. Noni Wharmate began her successful basketball career at the University of Texas, El Paso. Here, she set a record for assists before being named Best Defensive Player in the 2001 WNBL. She joined the New Zealand Tall Ferns in 2005, helping them to win the William Jones Cup in Taiwan. She was also part of the Ferns when they won the silver medal at the 2006 Commonwealth Games. Noni was selected as part of the All-Star Five at the 2006 Women's CBL and the 2007 WBL finals.There was a point in time when she thought about retiring after the 2006 Commonwealth Games, but when it was discovered that New Zealand would have a chance to vie for a spot at the 2008 Olympics, she decided to continue her basketball career in order to be part of that historic event. Noni Wharmate was named captain of the Tall Fern's for their 2007 tour of Japan. She was also one of the first players to sign to the newly formed Christchurch Sirens in the Australian WNBL. The Tall Ferns are currently ranked 16th in the world.
During their Olympic games, Noni contributed 3 points in their first game against Mali. New Zealand won this game with a final score of 76-72. She also played in the next two games against Spain and China, but did not score. The New Zealand Tall Ferns faced Spain and came away defeated with a final score of 85-62. They faced an additional loss against China soon after. Noni started in this particular game.
The Tall Ferns also lost to the Czech Republic, 90-59, and their final game to the United States, 96-60. Noni chose not to participate in this final game as it was played on Sunday.
Concerning being part of the 2008 Olympic games, Noni Wharmate has been quoted as saying, "We are only a small country, and there's not a lot of money in this game for women in New Zealand so all the girls who have made it here have had to work really hard. It is all worth it when you get to play against the world's best with the name of your country on your uniform and for a team that you love."
Other LDS members of the Tall Ferns include Natalie Purcell, playing forward, and Natalie's sister Charmain Purcell who also plays guard with Noni.
Read more about how she chose not to play on a Sunday.
Sources:
http://www.basketball.org.nz/news/beijing-olympics-4/
http://www.basketball.org.nz/national-teams/tall-ferns/tall-ferns-player-profiles/archive/noni-wharemate/