Noelle Pikus-Pace, born 8 December 1982 in Provo, Utah, is an American skeleton racer. She is the youngest of eight children. She graduated from Mountain View High School in 2001. She has always been very competitive in sports, and while in high school she competed in soccer, basketball, softball, track and field, bobsled and skeleton. Following high school, she attended Utah Valley University (UVU), graduating in 2005 with a Bachelor's degree in Community Health. During her time at UVU she broke the school's high jump record, was the NJCAA National Discus Champion, and 1st team All-American.
In 2002, she married Janson Pace, and on 19 January 2008, their first child, a daughter, Lacee Lynne Pace, was born. The couple also has a son named Traycen. The Paces belong to the Kiowa Valley 1st Ward, Eagle Mountain Utah East Stake.
Career in Skeleton Racing
Noelle began her career as a skeleton racer in 2001. Skeleton is a fast winter sliding sport which originated in St. Moritz, Switzerland as a spin-off from the popular British sport of Cresta sledding. It is run on the same track used by bobsleds and luge, and a person rides a small sled down a frozen track while lying face down. During the downhill slide, athletes experience forces as great as 5g. In 2005, Noelle became the first woman to ever win the Overall World Cup Title in skeleton, winning the Gold Medal as she looked forward to the 2006 Olympics.
On 19 October 2005, however, her dreams almost came to an abrupt end when her lower right leg was broken in a horrific crash during a training session in Calgary, Alberta. A four-man bobsleigh failed to brake at the finish line. The bobsleigh ejected out of the end of the track and hit Pikus-Pace and teammate Lea Ann Parsley, narrowly missing three other team members. The injury not only dashed her chances of competing at Turin but also nearly ended her career. Noelle underwent surgery which included the insertion of a titanium rod into her leg. Seven weeks later she was back competing at Igls, Austria, and finished 20th. A documentary, titled "114 Days: A Race to Save a Dream," records her amazing six-week recovery from her career-threatening injury.
After the 2006 Olympics Noelle kept training and won the World Skeleton championships in 2007 by the largest margin in history. Also in 2007, she continued her educational studies and received a Master's degree in Business Administration. She skipped the 2007-2008 Olympics season to give birth to her daughter Lacee Lynne Pace. During her hiatus, she also started her own hat business, SnowFireHats.com. In 2008 she returned to competition in a bid to qualify for Vancouver. The injury, the time off, and her new role as a mother provided her with a new perspective as she prepared for the competition to open at the Whistler Sliding Center on 15 February 2010.
Noelle competed in the 2010 Winter Olympics, on a sled that her husband built, and was the top U.S finisher finishing 4th, just one-tenth of a second out of the medals. She retired after the Olympics to spend more time with her family and Noelle and Janson had a baby boy named Traycen in 2011.

The summer of 2012, Noelle and Janson decided that she would give it one last try to earn an Olympic Medal, but only if their family could all travel together. They raised enough money last season to make it happen and Noelle had her best results ever. She won 16 national and international medals including 10 gold medals, 4 silvers, and 2 bronze. She won the Silver Medal in the World Championship Individual event and the Gold at World Championships in the team event as well as a Gold Medal on the 2014 Olympic Track in Sochi, Russia. She finished the season ranked 3rd in the World. [1]
Retirement and Keeping the Dream Alive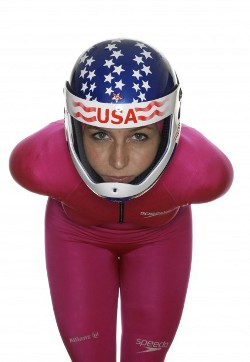 At the conclusion of the 2010 Winter Olympics Noelle retired. However, her retirement would prove to be short-lived. In the summer of 2012 she announced that she was coming out of retirement with intentions of qualifying for the XXII Olympic Winter Games which are scheduled to take place from 6 to 23 February 2014, in Sochi, Russia, with some events held in the resort town of Krasnava Polvana. On 11 January 2013, she placed first in her event at the Königssee, Germany track – her first win on the World Cup level since 2004. And she ended the 2012-2013 FIBT World Cup Season with a win in Sochi. In fact, during the 2012-2013 season, Noelle "had her best results ever: she won 16 national and international medals including 10 gold medals, 4 silvers, and 2 bronze. She finished the season ranked 3rd in the world." [2]
Going for the Gold in Sochi
For Noelle Pikus-Pace, the road to the Olympics has been a long and arduous journey. However, through hard work and perseverance, she is well on her way to realizing a dream come true as she competes one final time  in the Olympics with great aspirations of achieving the gold. This is a long-awaited goal that might have been fulfilled in 2006, the year that she was highly favored to win the gold, had it not been for an unfortunate accident which nearly ended her career. One of the things that have made this leg of the journey so special for Noelle is that she has been able to have her family travel with her to enjoy the thrill of the experience.
LDS Living magazine recently met up with Noelle and did a brief interview with her concerning the motivation behind going for the gold. These are a few of the questions that were asked of her: [2]
Between bobsled and skeleton, which is your favorite?
When I first started I wanted only to do bobsled, but after making the switch I wouldn't change the way it is now. I love skeleton.
What made you decide to come out of retirement and compete in the 2014 Sochi Games?
My husband Janson and I felt that if we could travel together as a family we could show the strength of family unity and at the same time create the best circumstances for me to compete in.
What is the best part about having your family travel all over the world with you?
I don't miss a thing in their lives. We'll have this experience with each other for the rest of our lives. I have been traveling to these places for the past 12 years without them, so it is neat to share with them where I have been and how great these places are that I get to travel to.
Are your kids aware their mom is a world-class athlete?
They know I compete and they get excited when I bring home a necklace (a medal), but I don't think they truly understand what is happening and how big this really is. In fact, on a day to day basis, they are with me shopping for groceries or Pampers at Babies'R'Us and I'm just "mom."
What sort of missionary experiences have you had throughout your career?
I cross paths with people everywhere I go and have shared many copies of the Book of Mormon. I have had great conversations and met people from many walks of life, but the greatest experiences that I have seem to be with the youth. I love the youth and want them to know that they can do anything with their individual talents by keeping true to the principles of the gospel of Jesus Christ.
What would you consider to be your greatest accomplishment?
Being in a position to represent my family, my community, my country, and my religion.
During the interview, Noelle also stated that the most important lesson that she has learned from her athletic career is realizing that in order to realize her dreams she has to set goals and have the determination to achieve those goals. She further stated that by putting her faith and trust in God, first and foremost, and through working on one or two goals at a time, everything seems to fall in place and she is able to envision the success that she is striving for. The journey may not be easy, she concludes, but she knows that she will be given the strength to endure any trial and test that may come her way. Noelle can be seen competing in the 2014 Winter Olympics in Sochi, Russia on 13 and 14 February on NBC television.
2014 Winter Olympic Games Update
On Thursday, 13 February, Noelle Pikus-Pace placed second after the first two heats in the women's skeleton competition.  During the competition, each competitor gets four turns down the course. The one with the lowest combined time is the winner. Noelle's time for her first run was 58.68 seconds and the time for her second run was 58.65 seconds, for a combined time of 1:57.33. She finished just .44 seconds behind the first-place winner, Elizabeth Yarnold ,  of Great Britain.  During a race broadcast, Noelle stated that turns No. 5 and No. 11 were the trickiest for her and she just needs to take them "one curve at a time." [3]
On 2 April 2014, the United States Olympic Committee brought together Winter Olympic and Paralympic athletes in Washington, D.C. to announce the Best of U.S. award winners. This is part of a new program which recognizes those athletes who were stellar in their performances with each award being determined by fan vote. The ceremony will air on NBCSN at 5:00 p.m. on Monday, 7 April 20104.
Noelle Pikus-Pace, from Orem, Utah was one of two athletes representing the state of Utah at the awards ceremony. The other athlete was Sage Kotsenburg, the Olympic slopestyle gold medalist from Park City, Utah who was the first American athlete to win a gold medal during the 2014 Winter Olympic Games. He was named the Best Male Olympian. Noelle Pikus-Pace received the award for Moment of the Games "as a result of the family-filled celebration that ensued after she received the silver medal in the women's skeleton event." [4]
Pikus-Pace had officially retired from the sport of skeleton in 2010, however, she and her family made the decision to work towards winning a skeleton Olympic medal one last time. "When we decided to come back, we knew that we could be so much stronger as a family," Pikus-Pace said. "There's power in family; there's power and strength. And we've felt it." [5] She is also an active member of The Church of Jesus Christ of Latter-day Saints and credits her faith as a major part of her success. "It's hard out there," said Pikus-Pace, who previously served as a stake Young Women president. "It's really, really hard, and you don't get anywhere alone." [5]
"Where much is given, much is required," she said. "I know I have a big responsibility. I hope the young women and the young men can see that it really is important, more than ever, to stand for something today, and to stand up for your values and beliefs. Even if you're the only one having to stand alone. … There are always others who can help support you, and Heavenly Father is always right there by your side." [6]
Christopher Pengra, Mayor of Eagle Mountain, Utah has officially proclaimed 26 February as "Noelle Pikus-Pace Day."
Additional Resources:
Noelle Pikus-Pace returns to Utah, credits family for her Olympic success
Days after winning silver, Mormon Olympian Noelle Pikus-Pace goes to church, reflects on God's Path for her
Noelle Pikus-Pace Mormon.org Profile
Noelle Pikus-Pace prepared for her medal unlike any other Olympian