Mormon Olympian Natalie Purcell
Natalie Purcell, daughter of Brian and Ingrid Purcell and a member of New Zealand's 2008 Olympic women's basketball team (Tall Ferns, nickname Kiwis), comes from a family of basketball players. Her older sister, Charmain, also plays for the Tall Ferns.
Prior to becoming part of the Olympic team, Natalie played for Southeast Missouri State University. She transferred there from Hutchinson Community College where her younger sister, Hayley, currently plays basketball. Natalie played for the Southeast Missouri State University during their time in the 2006 NCAA Tournament. She registered a ìdouble doubleî (17 points/13 points) in their first round loss to Stanford University. Soon after, Natalie Purcell became one of the first players to sign for the newly formed Christchurch Sirens in the Australian WNBL. In 2007, Natalie was awarded the WNBL honors of the All-Star Five and Most Valuable Player.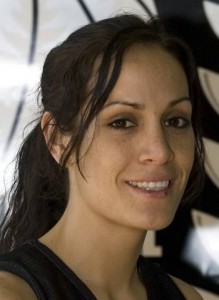 Born December 24, 1982, Natalie Purcell is a 6 foot, 170 pounds, forward for the Tall Ferns. She hails from Auckland, New Zealand. Other LDS members of the Tall Ferns include Natalie's sister, Charmain, who plays guard, and Nonila Wharemate also playing guard.
The Tall Ferns are currently ranked 16th in the world.
During their Olympic games, Natalie replaced older sister Charmain to contribute 20 minutes of play time, 5 points, and six rebounds in their first game against Mali. She even managed to execute a crucial steal from Hamchetou Maiga, who is considered the best player in Africa. New Zealand won this game with a final score of 76-72.
In the next game, the New Zealand Tall Ferns faced Spain and came away defeated with a final score of 85-62. Natalie did play but did not score any points. They suffered an additional loss against China soon after. Natalie contributed 5 points to this game.
The Tall Ferns also lost to the Czech Republic, 90-59, and their final game against the United States, 96-60. During this last match, Natalie's scorecard held six points, five rebounds, and one steal.
Natalie studied business while attending Southeast Missouri State University as well as studying medicine at the University of Sydney. She says that if she could share a meal with anyone in the world it would be to share fish and chips with her basketball hero Michael Jordan. Her other interests include photography and art.
Sources:
http://www.basketball.org.nz/national-teams/tall-ferns/tall-ferns-player-profiles/2011-2/natalie-purcell/
http://www.basketball.org.nz/news/beijing-olympics-4/
http://www.basketball.org.nz/news/beijing-olympics-4/
http://gosoutheast.cstv.com/sports/w-baskbl/mtt/purcell_natalie00.html
http://gosoutheast.cstv.com/sports/w-baskbl/spec-rel/081008aab.html