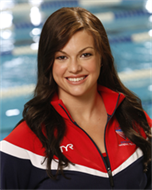 Mary Killman, a member of The Church of Jesus Christ of Latter-day Saints, is a world class "synchro" competitor.  Having grown up in Oklahoma and Texas, she was named the USA Synchro Athlete of the Year for the 2010 and 2011 seasons.
Mary competes in duet synchro and is partnered with Maria Koroleva.   They formed their team only six weeks before competing in the 2011 Pan American Games in Guadalajara, Mexico. Despite only having a month and half to prepare, they placed second behind Canada for the silver medal.   A match made in heaven, the teammates share the same ititials and have the same first name.
Killman is the only member of the U.S. Synchronized Swimming team not to attend college. She chose instead to focus on her lifelong dream of pursuing synchronized swimming at the Olympics. [1]
Mary started out as a racer, but began competing in synchro at age 11.  By age 15, she had given up racing and was focusing completely on synchronized swimming.   She was homeschooled, because her father traveled so much for work, and the family wanted to be near him.
Mary and Maria placed 11th at the London Olympics 2012.