There are many things that could put Laura Berg in the news. She is a three time gold medalist in the Olympics. In 1996, she scored the first run of the winning Olympic game. She has won the gold at every Olympics she's been to.
But that's not what's giving her headlines at the 2008 summer Olympics in Beijing. This year, she's making headlines for…pranking the president of the United States of America. She managed to leave a chalky handprint on his back that was captured by the press' cameras. This is her signature (but not only ) prank, and it's called being Bergied. It is, she claims, her last prank. After all, when you've pranked the president, there's nowhere to go but down.
To see a picture of Laura's newsmaking prank, visit Softball player puts mark on Bush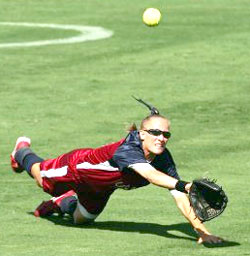 The Bush Bergy may be Laura's last prank, but more importantly, this may also be her last Olympics. Women's softball is being retired as an Olympic sport after these games, for reasons that are disputed and controversial. The United States team has taken the gold in each of the previous three Olympics that included softball. Laura is joined on the softball team by fellow LDS church member Tairia Flowers.
The twenty-three year old Laura Berg is a left-handed outfielder born in Santa Fe Springs, California. She has taken the gold with her team three times at the Pan American Games and taken gold in four World Games. With the fourth World Game win, she set a record for most appearances at these games. She is credited with leading her team to winning the World Cup for the first time ever.
She always intended to be famous, but expected, as a child, to achieve this as an astronaut. However, she's been making history as a softball player, now possibly the oldest professional player and known by her teammates as Grandma.
To this point in the games, the Women's American team has scored no hit wins against Venezuela and Australia. The game against Canada was suspended due to rain. If they win this Olympics, they will have achieved a perfect record for the four Olympics that included this sport and Laura Berg will be the only player to have done so.
Laura Berg is featured in the Nike commercial running during the Olympics, one of four laughing softball players in the spot.
Sources:
President 'grazes' on sports at the Games by Paul Alexander
http://beijing.comcast.stats.com/olympics/athlete.asp?country=USA&id=439262
http://beijing.comcast.stats.com/olympics/athlete.asp?country=USA&id=439262
http://www.deseretnews.com/article/700249666/President-grazes-on-sports-at-the-Games.html