Mormon Olympian Lacey Nymeyer
Lacey Nymeyer was the first member of The Church of Jesus Christ of Latter-day Saints to win a medal at the Beijing Olympics. She is a swimmer and took silver in the 4×1 freestyle relay with her United States team.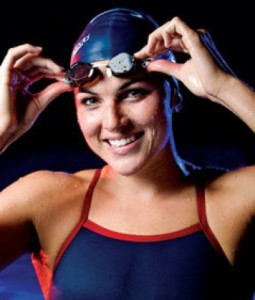 Lacey told the Daily Wildcat:
"I hold my faith very close to my heart and it was such an honor to compete in the Olympic Games not only for myself and my country, but as a member of my religion, too. It's such a big part of my life and I think that because of my faith it really helped me to appreciate my experiences at the Games so much more" (Daily Wildcat).
She expects to graduate from the University of Arizona in May 2008. She attended college right in her home state, having watched the college team train in the same facility where her high school team trained. She felt the coaching style matched her personality.
Lacey has an illustrious career as a swimmer. In 2007, she and her teammates broke world records in the 800m freestyle relay at the 2007 World Championships. She has two golds in the Pan Pacifics of 2006. In high school, she was USA Swimming Scholastic All-American for three years. Lacey trains six days a week, four hours a day or more. Many members of the Church choose not to train on Sundays.
Sports participation runs in the Nymeyer family. Before Lacey began to focus on swimming, she played soccer and competed in track and field. One of Lacey's two younger brothers, Sterling, plays football and the other, Brentyn, plays basketball. Her father played both football and basketball in high school. Going further back, her grandfather is in the Arizona Basketball Hall of Fame.
Besides swimming, Lacey has a multitude of hobbies, listing different ones in each interview. In various interviews, she has mentioned that she enjoys making jewelry, water skiing, keeping a journal, baking cookies, and watching sunsets. Despite a strenuous training schedule, it's clear Lacey has a very diverse and interesting life outside of her work.
Sources:
http://www.usaswimming.org/USASWeb/DesktopModules/BioViewManaged.aspx?personid=82930283-9f08-43f1-97ee-f94c4ed9f86f&TabId=388&Mid=597
http://www.usaswimming.org/usasweb/ViewMiscArticle.aspx?TabId=280&Alias=Rainbow&Lang=en&mid=408&ItemId=1837