Mormon Olympian Josh McAdams
When Josh McAdams transferred to Brigham Young University, a college operated by The Church of Jesus Christ of Latter-day Saints, his coach decided he would be a natural for the little known sport of steeplechase. Josh wasn't so sure, since his first try at it wasn't very successful. However, he persevered and in 2008, he was a participant in the Beijing Olympic's Steeplechase competition.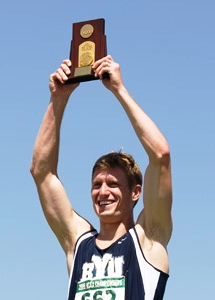 McAdams comes from an athletic background. His father was an All-American at BYU in his college days. However, he arrived at Brigham Young University as a walk-on for track and field, having to prove he deserved a space on the team. He earned his spot and no one ever regretted giving it to him.
He won the 2006 NCAA championships and the 2007 USA Championships and Pan Am games, causing his coach to convince him not to go on to optometry school just yet.
McAdams was a wrestler as well as a runner prior to his mission. He served a two year mission for The Church of Jesus Christ of Latter-day Saints in Thailand. Upon his return, he sacrificed a scholarship at another school to take his chances at Brigham Young University. He eventually won sponsorship from Adidas and completed a degree in microbiology. He was accepted into optometry school in Memphis, but his coach at Brigham Young convinced him that attending school while training for the Olympics would harm his chances of success. He agreed, eventually, to put off the remainder of his schooling.
Prior to serving a mission, sports and running were the most important things in the world to Josh McAdams. When he returned from Thailand, however, he had learned that running was far from the most important thing in the world. He had learned to set goals and to make wise priorities. This, he feels, makes him a better athlete.
McAdams is the fifth of eight children, five of whom have served missions for their church. He is married with a child on the way. With the Olympics, a return to school after the Olympics, and a growing family. McAdams is a very busy man, but he has his priorities in order, saying that the Olympics are important, but not the most important thing in his life.
In a journal he's kept for an Ohio newspaper during the Beijing Olympics, he wrote of attending church in China. "No amount of training can substitute for the benefits of spiritual exercising, if you will. Running for me isn't just physical and mental, it's spiritual too, as it is with many athletes I'm sure. The Lord plays a crucial part in my attitude towards life and running" (Josh McAdams' Olympic Journal).
Sources:
http://www.wkyc.com/print.aspx?storyid=94445
http://www.cleveland.com/olympics/index.ssf/2008/08/steeplechaser_chases_life_goal.html
Steeplechase is an opportunity for Utah pair By Scott Taylor Deseret News