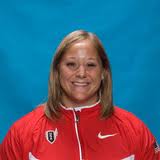 Jillian Camarena Williams was born in Woodland, California and started competing in shot put when she was in the seventh grade.  Her brother was a champion in high school and convinced her to give the sport a try.
Jillian graduated from Stanford University in 2004, and since then has made shot put her career.  She was on the 2008 Olympic team in Beijing and in 2010 became U.S. Champion in both indoor and outdoor shot put.  Her participation in Beijing was in question when she herniated a disc in her spine just before qualification trials.  After praying about the decision, she chose to have back surgery and still qualified.
Jillian currently is the assistant shot put coach at Brigham Young University.  Her husband, Dustin Williams is her trainer.  Jillian cites the triple-blessing of this arrangement.  First, he cares for her deeply; second, he is able to give her physical therapy when she needs it for her easily injured back and knee; and third, he is able to give her a priesthood blessing for healing and comfort when she needs it.
Jillian qualified for the 2012 Olympics in London.  Representing the United States, Jillian Camarena-Williams' longest toss was 18.22 meters in the qualifying round.  She was 16th in the standings and the top 12 advanced to the finals.  Another Mormon, Valerie Adams of New Zealand, took the silver medal in shot put.