This biography originally appeared on LDS Living on August 10, 2016.
Jean Saubert's journey to join the Church starts with the story of Latter-day Saint Marvin Melville. Skiing was simply an exciting diversion and outlet for Melville as a boy, but after beating former Olympic racers to win the 1955 Snow Cup, he suddenly realized that skiing could be more than a hobby.
Melville was selected as one of the four starters on the U.S. eight-man ski team headed for Cortina, Italy in 1956. And though he never earned amedal in the Games, his impact on the Olympics was far from over.
In 1964, Melville was asked to be the assistant coach for the U.S. women's ski team. That's when he met Olympian Jean Saubert for the first time. An Oregon native, skiing didn't come naturally to Saubert like it did Melville. "I lost lots of races—I was third all the time because there were usually only three of us [competing]," Saubert told LDS Church News with a laugh.
Despite her struggles in the sport, Saubert's painstaking determination led her to win junior nationals at 14. By age 21, she was the U.S. team's top female slalom skier and a medal favorite.
"She was the best in the world in the slalom," Melville told LDS Church News.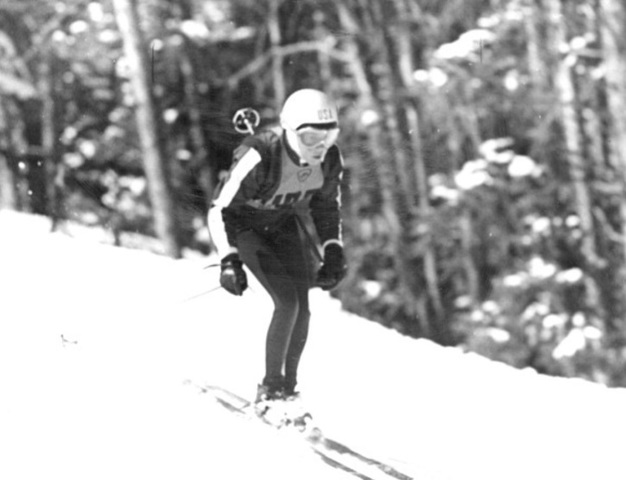 Saubert's debut in the Olympics got off to a rocky start. The opening round of women's slalom, she placed sixth. But she made up considerable ground in the second and final rounds to secure the bronze medal. In the women's giant slalom, Saubert gave another solid performance, earning a silver medal.
After the Olympics, Saubert moved to Salt Lake City to train with Melville at the University of Utah. Though not born into the Church, Saubert had a few LDS friends growing up and knew about Mormons. During this time, Melville's parents opened their home to Saubert, allowing her to stay with them while training. Saubert had studied quite a few religions in her life, and she took the opportunity to ask the Melvilles questions about the Church and the gospel they lived in their daily lives.
Later, she agreed to take the missionary discussions and accepted the challenge to be baptized. Her coach, Marvin Melville, performed the ordinance.
Both Melville and Saubert went on to faithfully serve in many callings. Melville served as bishop of a married ward at the University of Utah and later as a member of the high council. Saubert served as a member of the Young Women's MIA athletic board and later as a temple ordinance worker, always keeping her faith as a principle focus of her life until her death on May 14, 2007.
Read the rest of the article, "6 Famous Olympians Who Became Mormons," at LDS Living.