Jason Smyth is a champion who has broken records worldwide. He is a sprinter who competes in T13 100m and 200m. His determination has made him a world champion in meets for those who are disabled—Jason is visually impaired—and in races for those without disabilities. He won two gold medals in the Beijing Paralympics, which are held for disabled athletes in the same place and year as the better-known Olympics. Jason has also competed in meets against able-bodied athletes and in fact began his training in school against racers with perfect vision. Today he trains with the second fastest man in racing history, Tyson Gray, and other successful athletes, which he feels helps him compete more effectively.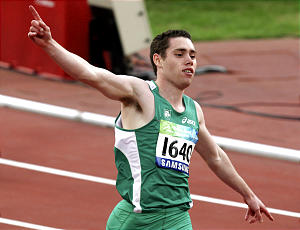 Smyth has Stargardt's disease, which was diagnosed when he was a child and caused him to lose some of his eyesight. When he was sixteen, his gym teacher suggested he compete. He only considered himself an average athlete, but he accepted the challenge and attended a training day for sprinters. Just a year and a half later, he qualified for the Junior Commonwealth Games in Australia.
Jason competed at a European championship in 2010, the first Paralympian to do so, and also at the World Championships in 2011, where he placed fourth. He hoped to become the first person to compete in both the Paralympics and the Olympics in the same year, but missed out on the qualifying time by .06 seconds. He made the qualifying time once, but it was disqualified due to wind. However, he will represent Ireland in the Paralypics.
Jason is engaged to be married in late 2012. He will be married in the Mormon temple in Salt Lake City, Utah to an American.
Smyth is a member of The Church of Jesus Christ of Latter-day Saints—a Mormon—and his faith defines who he is. He told the Irish Times:
"It might sound harsh but I don't really care what people think," he says. "My drive comes from . . . my family . . . I'd be religious so I'd see that I have been blessed with a talent and an opportunity to excel at something. I feel I've to give everything, finish knowing I have achieved everything I could and not look back with regrets.

"I think it is a God-given talent but I don't think I'm going to be the best man in the world. To me it's about being the best you can be. My religious beliefs, they give me a real strength in knowing who I am, what I believe. In a way, in the grand scheme of things sometimes things are not about you or in your control. There's just a greater being guiding you." ('I know where I'm going, who I am – that makes me strong' The Irish Times, November 21, 2011)
Smyth refuses to train on Sunday and does not do regular races on the Sabbath, although he does participate in championships then when necessary. He sees his career as a way to be a missionary, showing people how his different lifestyle—no alcohol, drugs, or tobacco, plus a sense of divine purpose, make him who he is. He says he considers his vision challenges a blessing, because he thinks he might not have become an athlete without them. He believes that when God takes something, He gives something in return. Smyth says that when God gives you a talent, it is disrespectful not to do your very best to develop it, and this motivates him. He told the Irish times:
"If you have talent you should use it for good. I can use my talent to let other people see what I believe.

"There is more to life than just sport. People are wandering around life lost. They don't know where they are going. I know where I'm going, who I am. As a person that makes me strong."
Smyth set a new world record of 10.54 seconds for the men's 100-meter sprint during the qualifying round for T13 athletes.  He then won gold and set another world record in the 100-meter race.  He ran the race in 10.46 seconds, breaking the  world record he set the previous day in the preliminary heat of the T13 division. After winning gold in all four races, breaking his own world record in each, the press and fans began referring to him as the fastest Paralympian in the world.
Additional Sources:
 Sprinting to Success, Lindsey Phillips, New Era, Nov. 2007
Jason Smyth aims for Olympic and Paralympic double in 2012,  Anna Kessel, Guardian.co.uk, 23 May 2010