Mormon Olympian Hayley Palmer
Hayley Palmer is a member of New Zealand's 2008 Olympic Swimming Team.  She competed in the 4×200m Freestyle Relay Race.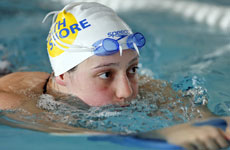 Hayley was born on May 8, 1989, and currently lives in Herne Bay in Auckland, New Zealand.  According to most news reports, Hayley was born in Cheltenham, England, where she lived until 2007 when her family moved to New Zealand.  However, the NZ Herald reports that she was born in New Zealand, moved to England when she was three, and returned to New Zealand last year.  Even if she was born in England, Hayley is still eligible to compete for New Zealand through her father, a native born New Zealander.
Hayley started swimming at a very young age, but it really wasn't until 6 months ago that she started to make a name of herself in the sport.  Hayley credits her training and her coach, Scott Talbot-Cameron, for her rapid rise and phenomenal improvement in the sport.
Hayley's relay team was disqualified in the 4×200 on Wednesday but this young athlete's Olympic hopes are far from over.  She is already planning for the 2012 Olympics in London where she hopes to compete in both the 100m and 200m freestyle.
Updates
At the 2010 Commonwealth Games in India, Hayley took home 2 bronze medals for the 50m Freestyle and 4x100m Freestyle Relay.
Hayley Palmer qualified for the 2012 New Zealand Olympic Team and was expected to compete in the Women's 4×100 Freestyle Relay and the Women's 50m Freestyle race.
Palmer holds the following New Zealand Records: [1]
Women's Long Course 50m Freestyle (25.01)
Women's Long Course 100m Freestyle (53.91)
Women's Short Course 50m Freestyle (24.39)
Women's Short Course 100m Freestyle (53.57)
Women's Short Course 100m Individual Medley (1:01.24)
Hayley has a blog about her Olympic experience.  She calls it Hayley Palmer's Fantabulastic Blog.
Sources:
http://www.nzherald.co.nz/sport/news/article.cfm?c_id=4&objectid=10485173
http://hayleyswim01.blogspot.com/
http://www.thisisgloucestershire.co.uk/1-35pm-Palmer-misses-Olympic-final/story-11910021-detail/story.html