Erik Fisher
Erik Fisher was born 21 March 1985 in Ontario, Oregon. He is an Olympic skier and a member of Black Canyon Young Single Adult (YSA) Branch, Middleton, Idaho Stake of The Church of Jesus Christ of Latter-day Saints (inadvertently referred to as the "Mormon" Church by the media and others).  Nicknamed "the Flying Fish," Erik's devout faith and quiet strength are refreshing in the wide world of sports.  Erik's motto is, "Pain is temporary, bones heal, glory is forever, and chicks dig scars."  He achieved the rank of Eagle Scout in the Boy Scouts of America, an achievement that is encouraged by The Church of Jesus Christ.
Fulfilling the Olympic Dream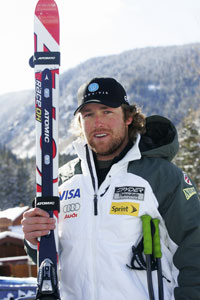 Fisher learned to ski and race at Bogus Basin near Boise, Idaho.  He began skiing with the Bogus Basin Ski School Program at age 3, and began racing with the Bogus Basin Ski Racing Alliance at age 7.  He continued his racing career at Snow Bowl, in Flagstaff, Arizona; at Sundance in Provo Canyon, Utah and at Park City, Utah. At age 15, his family returned to Idaho. Fisher was a Junior Olympic medalist and Junior National medalist. He graduated from Eagle High School in 2003. He took a post graduate year at Rowmark Ski Academy in Salt Lake City, Utah where in 2004, he was named to the development squad for the US Ski Team.  He worked for 10 years to be able to qualify for the U.S. ski team, a dream that became a reality for the 2010 Vancouver Olympics.
Fisher was a downhill bronze medalist at World Juniors in 2005 qualifying him for "C" Team status. He was a downhill Europa Cup silver medalist and the overall NorAm super G champion in 2006 moving him to the "B" Team.  In the 06-07 Nor Am season, he was on the podium 9 times, winning the Overall Nor Am Downhill and Super G titles. After an ACL injury during the first World Cup of the 07-08 season he spent the remainder of the season in rehab. He returned to race on the World Cup Tour for the 08-09 season. With his injury behind him, Fisher scored consistently on the World Cup for the 08-09 season ranking himself in the top 30 in the world and qualifying him for the "A" Team. He set two US Ski Team records for the best finish for a rookie at Val Gardena, Italy and Kitzbuhel, Austria finishing 7th and 11th. He helped the US Ski Team set another record when he started 52 and finished 7th putting 5 Americans in the top 10.
Fisher is ready to make his mark in the downhill and super G events at the 2014 Olympic Games in Sochi, Russia.
2014 Winter Olympic Games in Sochi
Following the men's downhill competition on Sunday, 9 February 2014, at the Winter Olympic Games in Sochi, Fisher posted a message on his Facebook page:
Once again I had to fight thru an injury (a knee injury for which he will be getting an MRI) to try and make the final 4 spots and could not quite do it. I'm proud of what I accomplished, adding: Nyman is a very good friend of mine and I hope he kills it! [1]
Additional Resource: