David Bissett was born on 26 September 1979, in Lethbridge, Alberta, Canada. He is a member of the Crystalridge Ward, Calgary Alberta Foothills Stake of The Church of Jesus Christ of Latter-day Saints (inadvertently referred to as the "Mormon" Church by the media and others). He is a former Canadian football star (running back) at the University of Alberta in Edmonton, Canada, and he currently resides in Edmonton.
Olympic Games Success
Bissett has been competing since 2005. He competed for Canada in the bobsled event at the Vancouver Winter Olympics.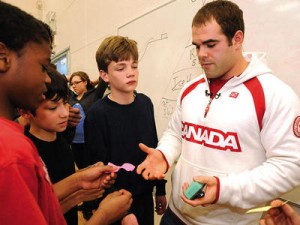 He won a silver medal in the four-man event at the 2007 Federation Internationale de Bobsleigh et de Tobogganing (FIBT) World Championships in St. Moritz.  In 2010, he was honored as a Bronze medalist in the four-man sled event in the 2010 Games in Vancouver. He also competed at the 2006 Winter Olympics in Turin, Italy finishing 11th in the two-man event and 18th in the four-man event.
While competing with the football team at the University of Alberta, he was able to hone his athletic power and strength. After making his Olympic Winter Games debut in 2006 as a brakeman for the Canada 2 sled in both two- and four-man events, Bisset climbed his way into the Canada 1 sled two years ago in both disciplines.  His quick speed on the field or icy tracks around the world was developed as a member of his University's track team while competing in the 60m sprint. He will be competing in his third Olympics in Sochi, Russia in 2014. He will be part of the four-man team piloted by Lyndon Rush, as he was when they won bronze at Vancouver 2010.