Christian Niccum, an American Luger who has competed since 1998, was born 27 January 1978 in Minneapolis, Minnesota. He is a member of the Cottage Lake Ward, Bothell Washington Stake of The Church of Jesus Christ of Latter-day Saints (inadvertently referred to as the "Mormon" Church by the media and others). He resides near Woodinville, Washington with his wife Bobbie Jo and their son and daughter. He studied Business Administration at DeVry University. He also has a family blog which can be found at Christianbbj.blogspot.com.
The Road to Sochi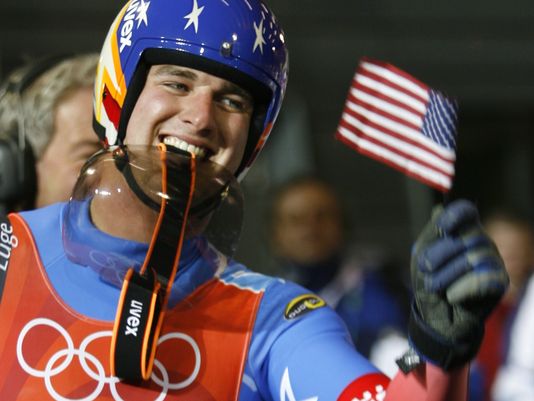 Niccum started sliding in 1990 at the age 12 when he competed in a "slider search" event in Seattle. Although he is a doubles specialist in luge, he has raced singles at various times in his career. His best finish at the FIL World Luge Championships was ninth in the men's singles event at Park City, Utah in 2005. At the 2006 Winter Olympics in Turin he finished 23rd in the men's singles event. For the 2007-8 Luge World Cup season, he returned to doubles paired with fellow American Dan Joye. Both Niccum and Joye qualified for the 2010 Winter Olympics in December 2009. At the 2010 Olympic Games in Vancouver, Niccum finished sixth in the men's doubles event.
Niccum's career highlights include: [1][2]
2013 Winterburg World Cup – Silver (team relay)
2012, 4th place at World Championship in team relay
2010 Winterburg World Cup – Bronze (w/ Jayson Terdiman)
2010 Olympic Games – Sixth – U.S. champion (w/ Joye)
2009 World Championships – Sixth – U.S. silver medalist (w/ Joye)
2008 World Championships- Sixth – U.S. champion (w/ Joye)
2006 Olympic Games – 23rd
1995, Nations Cup champion (w/ Matt McClain)
Niccum is the oldest member of the U.S. Olympic luge team. He will be competing in his third Olympic Games, in Sochi, however, this will be his first Olympic Games in which he is partnered with Jayson Terdiman. The two first shared a sled the Vancouver Olympics in which they won a 2010 World Cup bronze medal in Winterberg. They qualified to compete in the Olympic Games in Sochi after they won race-off between their U.S. teammates Jake Hyrns and Andrew Sherk, finishing ninth place in a World Cup luge doubles race in Oberhof, Germany in December.
2014 Winter Olympics Update
On Wednesday, 12 February, Christian Niccum raced with Jayson Terdiman in the doubles luge competition, and they finished 11th overall. In the doubles luge event, each team gets to take two runs down the track and their times are added together. Their first run was in 50.354 seconds, and their second run was in 50.591 seconds, for a combined time of approximately 2.012 seconds behind the winning German team.
Niccum's team competed again on Thursday, 13 February in the first Olympic luge team relay and took sixth place.  The team which included a women, men, and doubles team, had a combined time of 2 minutes, 47.555 seconds, which was less than a second behind the second-place team.  The German team took first place in the event, and the Russian team took second place, with times of 2:45.649 and 2:46.679 respectively.