Chris Fogt was born 29 May 1983, and is a Utah native, currently living in Alpine, Utah.  He attended American Fork High School, and graduated from Utah Valley University in Orem, Utah with a degree in Business Management. He is a member of the the Alpine 4th Ward, Alpine Utah Stake of The Church of Jesus Christ of Latter-day Saints (inadvertently referred to as the "Mormon" Church by the media and others). He is also a returned missionary having served in the Quezon City Philippines Mission, and an Eagle Scout. He completed ROTC at Utah Valley and commissioned into the army as a 2nd LT in the Military Intelligence branch.  One of his teammates is in the Army with him. He was deployed to Iraq shortly after the Vancouver Games, and he currently holds the rank of Captain. Last summer he married Rachel Nelson
While at Utah Valley, he ran track and field where he was team captain for two years, and set an indoor school record in the 100-meter sprint (10.53), and the 60-meter dash (6.92).  It was when he was competing in track and field that he was invited to try bobsledding.  All the members of Chris' bobsled team are track and field stars, leading to jokes associating them with the Disney movie, Cool Runnings.
Following the Olympic Dream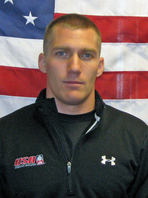 Chris began the sport of bobsled in 2007 after attending a camp in Lake Placid, N.Y., which is also where he tried out for his first team.  Since then he has pushed for drivers on the America's Cup and World Cup circuits.  He is a member of the World Class Athlete Program.  His first Olympic competition was in Vancouver. He was a World Cup push athlete in 2007-08 season for drivers Bosch, Mike Kohn and John Napier.
Prior to the Vancouver Olympics, Chris trained in Park City, Utah which became the site of the only injuries the team suffered.  Other than that bad luck, Chris considered the Olympic Park at Park City an excellent place to train.  The track is fast with smooth turns.  The track in Vancouver has the steepest slope in the world at the start, and more abrupt turns in the course.  It's an extremely fast track, however, and near the end, the wind whistles through their helmets.  Christ says that bobsledding is like a wild, uncontrolled roller coaster ride, where the sledders pull G's or feel weightless.
Chris' team was ranked 2nd in the U.S. until the members had to shuffle places due to injury.  The team dropped to 4th while making the adjustment. Chris and his teammates on the United States four-man bobsled team are expected to compete for a medal in the 2014 Olympic Games in Sochi, Russia.
Awards won:
2009-2010 World Cup as brakeman for Todd Hays & John Napier in the four-man
6th in Park City (11/09)
SILVER in Lake Placid (11/09)
5th in Winterberg (12/09)
10th in Altenberg (12/09)
BRONZE in Konigsse (1/10)
11th in St. Moritz (1/10)
13th in Igls (1/10)
2009-2010 America's Cup as brakeman for Todd Hays in the four-man
GOLD in Park City #2 (12/09)
GOLD in Park City #3 (12/09)
4th at 2009 U.S. Bobsled Push Championship
2008-2009 America's Cup in four-man
BRONZE in Park City #1 (11/1)
5th in Park City #2 (11/2)
GOLD in Lake Placid #1 (4/3)
GOLD in Lake Placid #2 (4/4)
2008-2009 America's Cup in two-man
SILVER in Lake Placid (4/1)
2014 Winter Olympic Games
During Presidents' Day weekend, Fogt took 12th in the two-man bobsled races with pilot Cory Butner on the USA-2 sled. After the first heat the team was in third, but dropped to 11th after the second heat.  Click here for an interview with Fogt after the race. This weekend Fogt will be a part of the USA-1 sled crew for the four-man bobsled event. The first two heats are on Saturday, and the second two heats are on Sunday. The team with the fastest combined time will be the winner of the event.
2018 Winter Olympic Games
After the 2014 winter games, Fogt chose to be deployed to Iraq. He has always loved being in the Army. He said after the crash that the team experienced in the 2014 games, he struggled emotionally afterward but the guys in the army supported him. In an interview with Deseret News, he says,"I almost chose not to keep bobsledding because I love being in the Army so much. I love serving my country in that way. (The Olympics seemed a little superficial at the time, coming from a war zone, coming from Iraq, guys are dying, guys are serving, and I'm going to go slide down the hill with my friends in spandex."
After coming back, Fogt pushed for the famous Steve Holcomb. They had many amazing experiences together as a team. Holcomb really helped and trained everyone. However, his death in May really affected the team emotionally and practically. However, the team came back to race this year.
Fogt has competed in three Olympics and tells how it has been a big sacrifice on his family. He has two kids and they are his biggest motivation. He knows that when his boy is a teenager, he want's to be able to say that he didn't take shortcuts.
Additional Resources:
Video interview with Chris Fogt prior to the 2010 Olympics
Chris Fogt Prepares for Vancouver Race
Chris Fogt: On the Road to Sochi