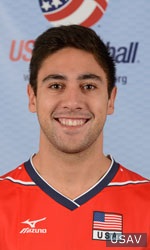 Among a handful of former BYU students vying for a spot on Team USA for the 2016 Summer Olympic Games, Taylor Sander, 24, recently won his ticket to Rio de Janeiro, Brazil, on the U.S. Men's Volleyball Team.
Sander, who joined the U.S. Men's Volleyball Team in 2014 as an outside hitter, was named 2014 USAV Men's Indoor Rookie of the Year soon after starting on the team. He became a starter soon after joining the national team, and was chosen as Most Valuable Player and Best Spiker of the 2014 FIVB World League Final Round, where the team won gold. In 2015, he and his teammates won the FIVB World Cup, qualifying for the 2016 Olympic Games.
However, only 12 men from the U.S. Men's Volleyball Team make the Team USA roster for the Olympics. Sander made the Olympic team, along with seven other first-time Olympians, two 2008 Beijing Olympic Gold Medalists, and two returning Team USA players.
In the past three U.S. Olympic men's teams, no players younger than 25 have made the roster. However, this Olympic's team roster is young, with nine players under the age of 30 and an average age of 27.8.
Back in 2014, the U.S. Men's head coach, John Speraw, was impressed with what Sander brought to the national team.
"He really is enthusiastic and enjoys the game," Speraw said. "He's fun to coach. He fits in really well, and he's playing with better players so it allows him to use his gifts. Now he gets the ball every time where he needs it. It's impressive to see what he can do with it under those conditions."
In response, Sander said, "I'm learning a ton. I ask guys questions all the time in the USA gym. Playing with this team and traveling to Europe has kind of opened doors for me."
Two years later, one of those open doors will lead Sander to the Olympic Games. Originally from Huntington Beach, California, Sander attended BYU from 2011–2014, where he met and married his wife, Rachel McQuivey, and pursued a degree in Global Studies. He was named the MPSF Player of the Year for BYU in 2013 and 2014, as well as the MPSF Tournament MVP two years in a row.
Leading up to the Rio 2016 Olympic Games in August, Team USA will seek to improve their fifth-place finish four years ago in the London 2012 Olympic Games. With so many new Olympic contenders on their team, Coach John Speraw hopes to overcome their Olympic inexperience with extra ambition and fire.
"The goal is to make sure we are the best team we can be in Rio," Coach John Speraw said. "In order for us to achieve our goal, we are going to need one of the greatest collective efforts in USAV history. We don't have the experience that past teams have had. For us to go through this is going to require all of us to be at our very best."
Taylor Sander will join former BYU athlete Jared Ward, who will compete in cross country, as the only BYU alumni to make it to the Rio 2016 Olympic Games thus far. More athletes from both the BYU swim and dive team and track and field team continue to compete for places on Team USA.