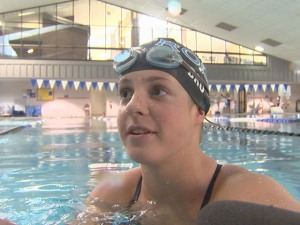 Brickelle Bro, of Castle Rock, Colorado, is a 15 year old swimming sensation.  She  is one of 20 female swimmers to represent the United States in the Paralympic Games in London 2012, and she earned her place despite being born without feet.   Her first doctors said she would never walk, but new doctors thought otherwise, since she had knees, and therefore, could learn to use prosthetics.   She began using them before she was a year old, but not in the pool. [1]
Bro is one of the top Paralympic women swimmers in the world.  She is also a member of The Church of Jesus Christ of Latter-day Saints, sometimes called the "Mormon Church."  That means she lives according to high standards of behavior.
Brickelle was able to qualify for the London Olympics, but had to rely on donations to help.  She started well — she was fifth  in the 400-meter freestyle.  She also competes in the 50 meter freestyle, and she hopes also to qualify for the world championships.  She competes in the S8 division.
By Gale
Additional Resources:
Basic Mormon Beliefs and Real Mormons
Learn more about what Mormons believe