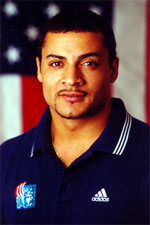 Bill Schuffenhauer is a 6′, 220 lb. bobsleigh and skeleton competitor for the U.S.A.  He was born June 24, 1973, in Utah.  He lives in Ogden, Utah at the present time.  His adopted father used to call him 'Skippy', while his teammates now call him 'The Rock,' because he's always quoting former professional wrestler Dwayne Johnson.  He grew up in the foster care system during his parents' struggle with drugs and alcohol.  (Read about Bill's difficult beginnings here.) Not wanting to face his parents' environment, Bill used athletics, including break dancing, to avoid drugs and violence. Bill became inspired to become an Olympian when his high school coaches introduced him to track & field. "When my coaches told me about how the Olympics were the highest achievement for an athlete it became my dream. So I decided to never give it up or let anything get in my way, including my past," said Bill.  (See official website.)
Bill had trained for decathalon and tried to qualify for that event in the 2000 Sydney, Australia Olympics, but failed.  Injuries also got in his way.  He then threw his efforts into preparing for bobsleigh.  He has competed since 2000. Competing in two Winter Olympics, he won the silver medal in the four-man event at Salt Lake City in 2002.  He also won two medals in the four-man event at the FIBT World Championships with a silver in 2003 and a bronze in 2004.  It was announced on 17 January 2010 that Schuffenhauer made the US team in the four-man event for the 2010 Winter Olympics.
Bill's hobbies are hunting, fishing, playing golf, hiking, mountain biking and spending time with his family.  He also played football in high school.  He has a degree in Marketing from Weber State University in Ogden, Utah.
For Bill's Official Website, click here.