Arielle Martin, or Arielle Verhaaren, as she is also known was born in 1986. She is from Cedar Hills, Utah and is a United States BMX cyclist. She is also a member of The Church of Jesus Christ of Latter-day Saints (commonly referred to as the Mormon Church.)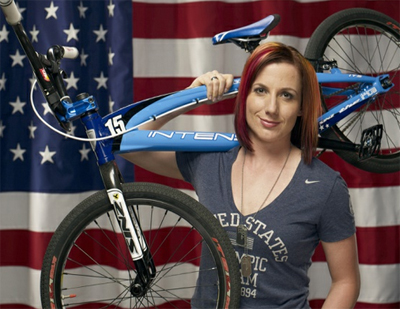 During the World Championships held in Taiyuan, China, on 2 June 2008, she crashed in the quarter-finals, resulting in her friend and roommate at the Olympic Training Center in Chula Vista, California, Jill Kinter, finishing in sixth place, guaranteeing Jill the only automatic women's spot on the U.S. BMX Olympic Team. There is a race-points series in USA cycling and Jill had 129 points to Arielle's 128. Jill won the bronze medal in the event, and afterwards Arielle returned to the training center to help her friend train. The two said that living together made them more competitive and more willing to push each other to succeed in the event. She bounced back from that trial by claiming the World Cup SX Series Champion title two months later in France followed up by a Bronze medal at the World Championships in Australia the next year. [2]
In 2007, Arielle earned her degree in Exercise Science at Brigham Young University. In December of that same year she was married to Michael Verhaaren and uses the last name, except when she is competing in bike competitions. On 2 January 2008, they left their Utah home on two separate missions. She went to train for the 2008 Olympics in Beijing, China, and he spent a year deployed in Afghanistan with the United States Army as a helicopter mechanic in the 101st Airborne Division.
Arielle's father was also a BMX racer, and at the young age of two, she started riding a BMX bike. At the age of 5 she started BMX racing. By the age of 10 she was nationally ranked, and after collecting a handful of national titles in her age group, at 15 she became the youngest girl pro on the national circuit. [2] In October 2007, she became the third woman in the world to do a back flip on a BMX bike.
During the first race of the 2007 season, eight days after they were married, she tangled with another rider and ripped apart her knee. Martin had sustained other injuries as a teenager — a lacerated liver, a bruised lung and a broken back that prompted doctors to suggest she never ride again.

After doctors told her the anterior cruciate ligament was severely damaged, no longer attached, she opted for surgery. But that decision came with major consequences. Dropped from sponsorships, dropped from the team financed by USA Cycling, Martin had to ponder two soul-searching options.

"Should I continue to pursue this?" was one. "Or should I just give it up?" was the other. [1]
She made the decision to continue on, and since that day there have been no regrets and no turning back. The surgery was performed by Eric Heiden, the speed skating star turned elite surgeon. Six months later, Arielle returned to riding a bike. On her second race back, at the Olympic test event in Beijing, she tore through the qualifiers. About her return, Mike King, a former BMX world champion turned director for USA Cycling's BMX division, said, "The motivating factor is there, and the confidence is there. I couldn't say that eight or nine months ago" [1] King also said, "I can see in Arielle that she has a dream. Her dream is to represent her country and go to the Olympics" [1]
At the UCI BMX World Championships in Birmingham, U.K., Intense BMX team rider Arielle Martin secured the first women's spot on Team USA's 2012 Olympic BMX race team, leading into the 2012 London Olympics this summer. [3] She became one of two riders to earn the "Automatic Nomination" slot to London 2012, clinching the nomination with a fourth place finish in the semifinals. Her addition to the Team USA Olympic BMX team comes four years after a unfortunate crash caused her to miss a spot on the Beijing Olympics team by a mere point. Of that incident she said on her blog:
I was devastated when I crashed at the World Championships four years ago and lost my trip to Beijing by one point. I carried that with me for four years and I'll admit — going into Birmingham, I was pretty terrified of a repeat happening.
After earning the nomination she said:
Deep down I knew at that moment that I was going to London. It freed the monkey that had been on my back for four years and the main event got to be the icing on the cake. I was just free to race it and have fun. [3]
Four days after the World Championships, Arielle returned to the Olympic Training Center (OTC) in Chula Vista, California to begin training. "I'm not training for the team anymore, I'm training for a medal," she told BMXNews.com. "It's very humbling." [3] Her current sponsors include Intense, THE, SINZ, Nike, Oakley and Fly Racing.
Additional Resources: