This biography originally appeared on LDS Living on August 10, 2016.
Antje Misersky grew up behind the Iron Curtain as an East German cross-country skier.
When the German national cross-country team kicked her off the roster when she refused to take steroids, Misersky's family became a target of government scrutiny and the teenager thought her Olympic dreams were dashed.
That is until she discovered the biathlon, an event that not only took her to the Olympics but also led her to her future husband.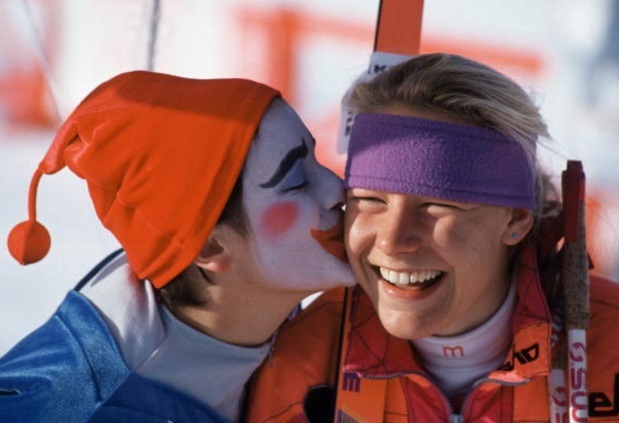 Three years after the Berlin Wall fell, Misersky competed in the 1992 Albertville Winter Olympics, earning one gold medal in the 15 km race and silvers for the 7.5 km sprint and 3 x 7.5 km relay. During this time, she and her father—a former head ski coach in East Germany who was fired when he refused to give his athletes steroids—spoke out against the East German team's history of doping, something that garnered both respect and notoriety as well as death threats and an unpopularity in East Germany.
During the 1991-92 Biathlon World Cup in Ruhpolding, Germany, Misersky met American biathlete Ian Harvey, and the two were married 15 months later.
In 1994, Antje Misersky Harvey appeared in the 1994 Lillehammer Winter Olympics, this time bringing home a silver for the 4 x 7.5 km relay.
After the birth of her two daughters, Hazel and Pearl, Antje began suffering from hyperthyroidism. During this time, a neighbor tried to help Antje by teaching her about the Atonement. Soon after, Ian and Antje began reading the Book of Mormon together and later were baptized as members of the Church.
In 2012, Antje and her father were inducted into the Hall of Fame of German Sports.
Read the rest of the article, "6 Famous Olympians Who Became Mormons," at LDS Living.