From the age of 7, Jerica Tandiman knew she wanted to be an Olympian. She had the opportunity to see the Olympic Oval be built near her home in Kearns, Utah.
In an interview with Deseret News, "The 2002 Olympics were my earliest memory of seeing the Olympics," Tandiman said. "The speed skating events were held at the Oval, which was practically built in my backyard. I don't remember a lot about the events, but I do remember watching the torch go through the Kearns High School parking lot. I didn't then know that I would later be chasing an Olympic dream of my own, but watching that flame sparked something within me."
Once the Olympics were over, Jerica's mom enrolled her in lessons. Eight years later, she won her first Gold Medal at the Ameican Cup 2.
In Pyeongchang, Jerica will be competing in long-track speed skating as a first-year Olympian.
In an interview with KSL, Jerica says "The whole theme of 'Light the Fire Within' during the Olympics — I think it did light the fire within a lot of people," Tandiman said. "That Olympic spirit, it's like contagious. Once you get a taste of it, you want more."
Training for the Olympics is no easy feat. She says that she looks back to her 7-year-old self and remembers what she has always longed for.
Jerica is stoked to go to the Olympics. On her Twitter account, she posts a picture of her putting on her skates with the caption of "Another day closer. Another original photo idea."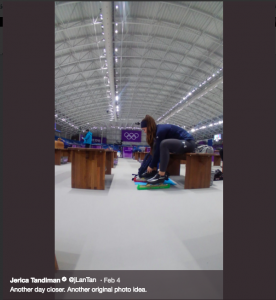 She is also not as nervous as she thought she would be.
She started competing Feb 9.
For now, Jerica Tandiman, Keep calm and skate on!