This biography originally appeared on LDS Living on August 15, 2016.
Ashley Steacy missed the entire 2015-16 World Series in women's rugby. Having suffered two recent injuries, including one that required surgery, there was some question as to whether Steacy would miss the 2016 Olympics as well.
But the 29-year-old from Lethbridge, Canada, wasn't going to let injury hold her back. In fact, she and her team just took home bronze in the 2016 Olympic Games.
"She's resilient," John Tait, coach of the Canadian women's rugby team, told CBC News. "She's the backbone of our defence and such a big important link in our attack."
In October, Steacy injured her knee in a training session that also injured two more of her team's players. After working her way back into playing shape, she injured her other knee in February, this time requiring surgery and another round of rehab. All of this after she had come back from a shoulder injury in 2014.
But Steacy hit the training room, making it back into shape to be on the Candian women's rugby team when they took bronze at the 2016 Olympic Games.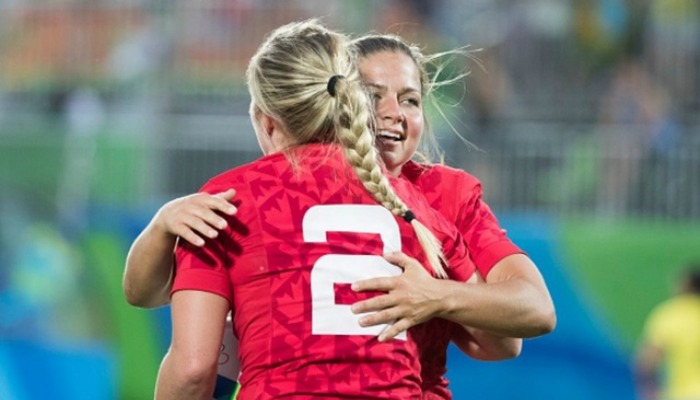 Steacy began playing rugby at age 15, after her best friend convinced her to try the sport. She has wanted to represent her country ever since she saw Canada's women's national team play in Calgary and she had her picture taken with Maureen McMahon and Gillian Florence.
While earning a degree in kinesiology from the University of Lethbridge, she became a three-time Canadian Interuniversity Sport Champion. In 2013 Steacy's team took silver in the second Women's Rugby World Cup Sevens.
After recovering from her shoulder surgery in 2014, Steacy came back to become Rugby Canada's Women's Sevens Player of the Year.
There's no doubt Steacy knows how to come back from difficult times. And through it all, Steacy credits her husband Sean, whom she married in August 2011, for his support and helping her through it all.
Read the rest of the article, "3 LDS Olympians Who've Won Medals This Olympics," at LDS Living.